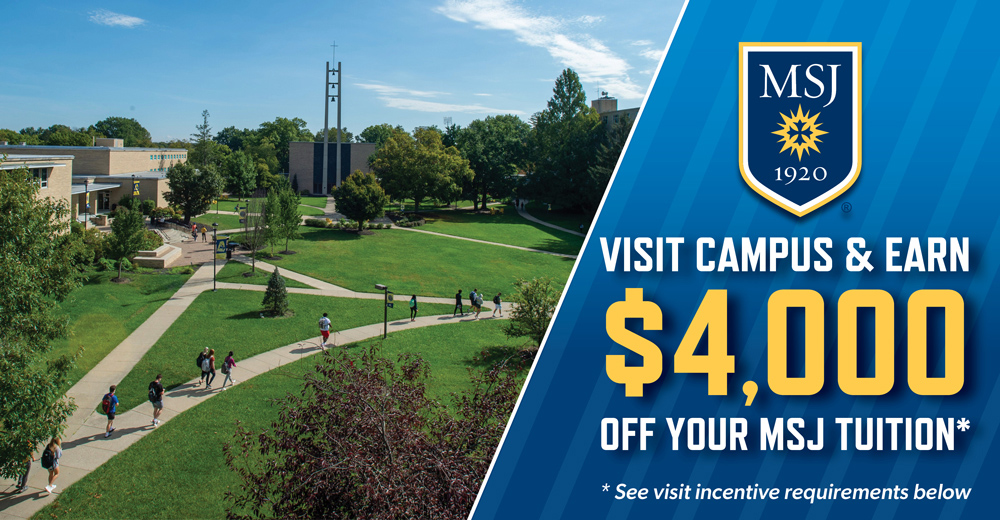 Visit Incentive Requirements
Eligibility*
To be eligible:
Campus visits must be scheduled through the Office of Admission below, or 513-244-4531 by April 1, 2023.
Students must be accepted and enrolled full time at the Mount for fall of 2023.
The award will be distributed $500 per semester, for eight consecutive semesters
Students must maintain full time status and achieve satisfactory academic progress to remain eligible.
Visits for High School Students, Recent High School Graduates, and Transfer and Adult Students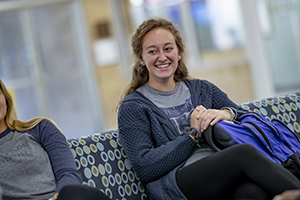 Individual Visits
Join us during the week for a campus tour and admission counselor appointment. Meetings with financial aid, faculty, and coaches may also be scheduled at this time.
Individual Visits | Customizable | Campus Tour + Admission Presentation + Other MSJ Personnel (Financial Aid, Faculty, Coaches) | 1.5 hours – 3 hours
We offer campus tours at 10 a.m. and 2 p.m. Monday through Friday; customizable and personalized based on requests.
Go to the Individual Visits page to learn more and register.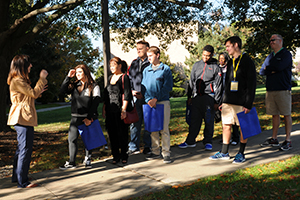 Discover the Mount Visit Days
During Discover the Mount visits days, students tour campus, chat with current Mount students, professors, and coaches. Guests learn about financial aid, campus life, and support services offered at MSJ.
Discover the Mount | Set Schedule |  Presentations, Campus Tours, Student/Parent Panels, Academic and Activities Fair, Lunch | 3.5+ hours
Visit the Discover the Mount page for specific dates or to register.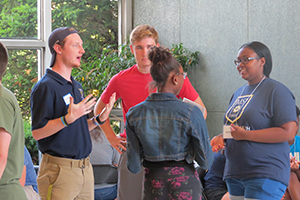 Saturday Visits
During one of the Mount's Saturday Visits, students get to explore academic programs, learn about the application and enrollment processes and catch a glimpse of campus.
Saturday Visits | Set Schedule | Campus Tour +  Admission Presentation | 1.5 hours
Check out the Saturday Visits page for dates, details and registration.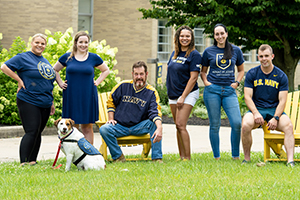 Transfer Visit Days
Meet individually with an admission counselor or attend a Transfer Visit Day for more information about transferring to the Mount from another college or university to complete your undergraduate degree. Go to the Individual Visits page to schedule a visit, or see the Transfer Visit Days page for upcoming dates.
Transfer Preview! These are 30-minute, virtual information sessions hosted by our transfer counselors about academics, transfer credit, campus resources and the admission process. Find out more and register on the Virtual Visits page.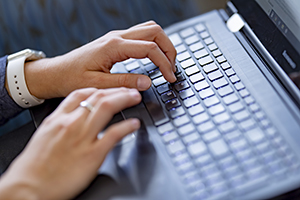 Virtual Visits
MSJ offers virtual visits, meetings, and pre-recorded content. Learn about MSJ resources, meet your admission counselor, participate in online discussions, and access on-demand presentations at our
Virtual Visits
 page.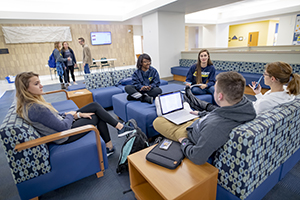 Group Visits
The Mount is able to accommodate large group visits ranging in size of 5 - 100 guests! We can help plan your visit tailored to your group's needs.
Group Visits | Set Schedule | Campus Tour + Admission Presentation  |1.5 hours – 2 hours
Check out the Group Visits page to learn more.
Take a University Virtual Tour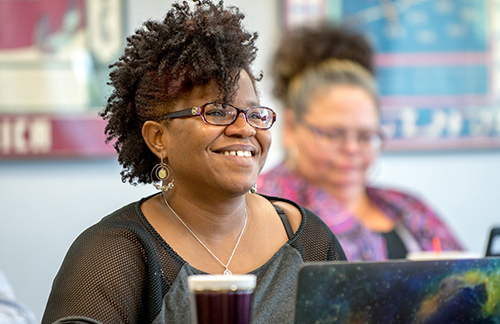 Graduate Programs Events
Attend a Graduate Information Session, tour, virtual fair, or schedule an individual appointment! These events are designed for the busy graduate student, offering a variety of dates, times, and meeting formats. 
Find details and registration info on our Visit Graduate Programs page.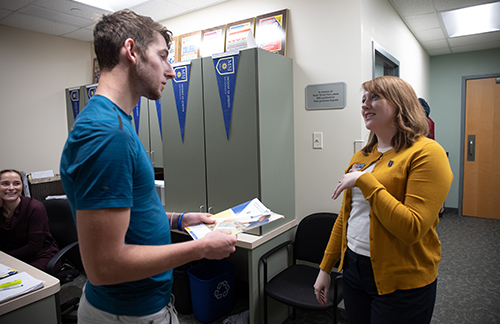 Contact Us
For questions please contact the Office of Admission at admission@msj.edu, 513-244-4531, or click HERE to meet your admission counselor today!