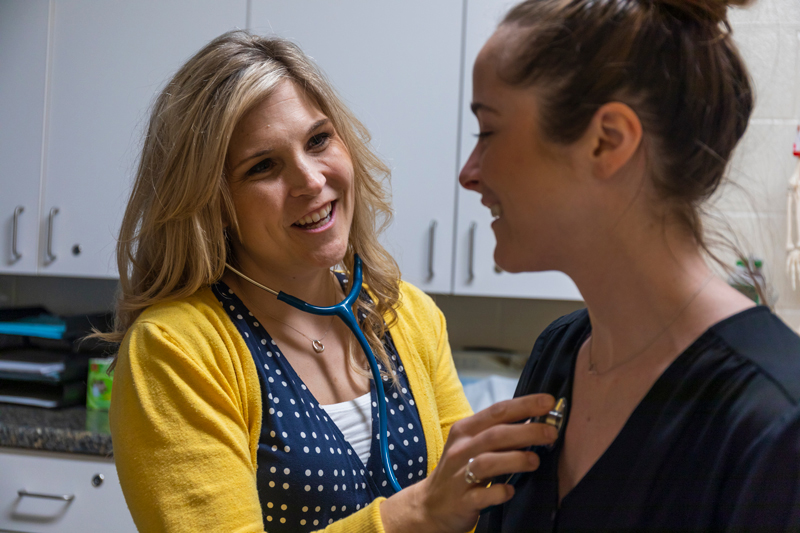 The Wellness Center provides confidential mental and physical health services to Mount students and provides a safe environment that advocates, educates, and encourages the physical and psychological well-being of our students.  The Wellness Center is located in the Harrington Center.
Contact Information
Office hours are Monday-Friday, 8 a.m. - 5 p.m.  To make an appointment with a health provider or ask a question, call the Wellness Center's main desk at (513) 244-4949 or email Wellness.Center@msj.edu.   For specific questions regarding student health insurance, call (513) 244-4769. Appointments with individual members of the Wellness Center staff can also be made by emailing or calling them directly. 
Staff
Health Service
Licensed medical professional staff members include a full-time registered nurse and a medical assistant, as well as physicians who are available on a limited basis. Services available:
Vaccinations
Physician visits and physical exams; $10 fee for service to visit Doctor. 
Blood Pressure Monitoring
Lab Work and point-of-care testing
Allergy Shots
Continuity of care for long-term conditions
Imaging, testing and referral through TriHealth and Good Samaritan Hospital
Counseling Service
Professional mental health counselors are available to support student success through: 
Individual counseling
Mental Health Screening
Psycho-educational programming
Referrals to appropriate health providers off campus or to on campus resources
Crisis Intervention
MSJ is a proud partner of TimelyMD and TimelyCare
With TimelyCare (formerly LionsHealth), full-time students can access a doctor, mental health provider or personal health coach anytime, from anywhere. Licensed providers can diagnose non-emergent medical conditions, prescribe medications and offer mental health support and wellness coaching via phone or secure video visits.
 Full-time students can:
Get easy mobile access, anytime, anywhere
Speak with a licensed provider within minutes
Get support, diagnoses, care plans, electronic prescriptions, and referrals as needed.
TimelyCare is powered by TimelyMD, an independent company providing virtual visit services for Mount St. Joseph University. TimelyMD operates and administers this virtual visit program, and is solely responsible for its operations and that of its contracted providers.