Mount St. Joseph University welcome its largest and most diverse first-year class in the last decade.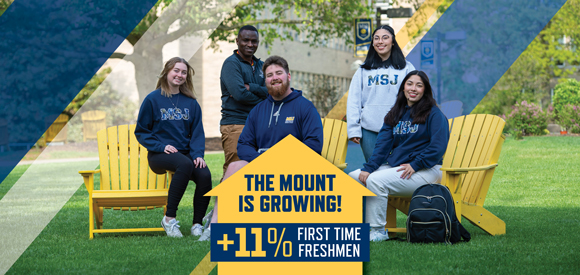 CINCINNATI - Mount St. Joseph University (Mount) is proud to welcome its largest and most diverse first-year class in the last decade, with an 11% increase in its first-year enrollment, and a 6% increase in overall enrollment as compared to last year, marking a significant milestone for the University. 
In addition to the size of the incoming class, the Mount experienced a 45% increase in diverse student population enrollment among first-year students. Underrepresented populations now comprise more than 26% of the total undergraduate student body. The Mount has built a community that celebrates diversity and creates a culture of belonging among students from different backgrounds and life experiences. 
"We are thrilled to welcome our largest class in over 10 years. The Mount continues to grow momentum by offering a values-centered education, nationally-recognized academic programs, personalized attention, as well as championship Division III NCAA athletic programs and facilities," said the Mount's Vice President of Enrollment, Chris Powers, Ph.D. 
The Mount's leadership attributes this success in growth and diversity to the dedication of its talented faculty and staff.  Mount students benefit from a liberal arts environment with small class sizes, renaissance arts and music opportunities, championship NCAA Division III athletics programs, and a robust campus life. With a career placement rate of 98.5% after graduation, prospective students recognize that the Mount creates a unique pathway to success. 
"The Mount continues to invest in building a superb living and learning campus experience for our students, with engaging clubs and organizations, 23 NCAA Division III athletic teams, state-of-the-art Centennial Field House, and the recent grand re-opening of the transformed Archbishop Alter Library," said President H. James Williams, Ph.D. 
"We are on a mission to guide our students to reach their potential, have a successful future, and to help build a better world."
About the Mount
As a Catholic institution rooted in the values of the Sisters of Charity, Mount St. Joseph University excels at serving the common good. Undergraduate, graduate, and doctoral students at the Mount are inspired to think beyond the classroom and redraw the bounds of what's possible for their futures. This is accomplished through individualized educational experiences, a safe, secure campus environment, and an all-in commitment from faculty and staff to inspire students to reach their highest potential. The Mount fosters life-long learners who serve, care, and contribute to the world beyond their front doors. 
###