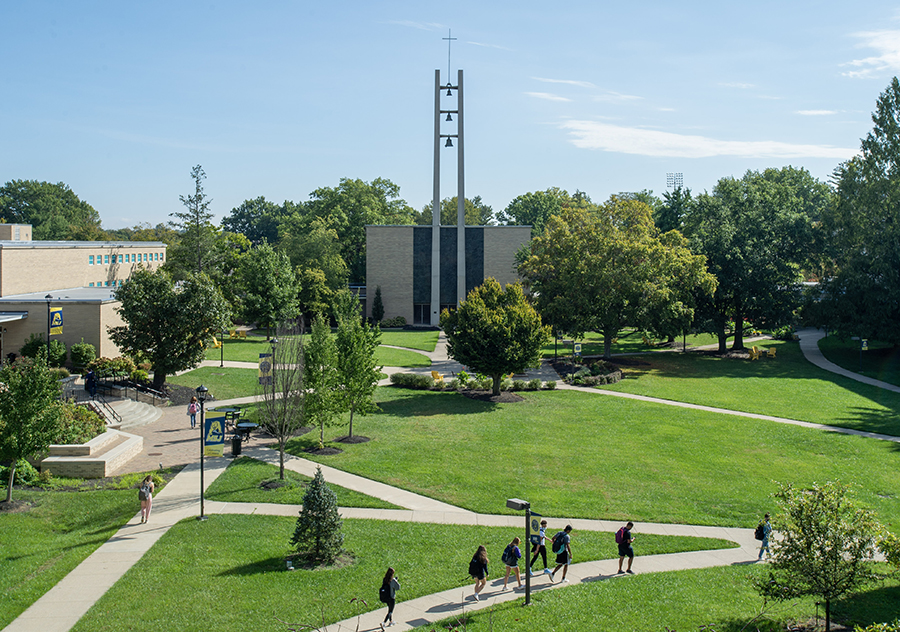 Located six miles west of Downtown Cincinnati, the campus of Mount St. Joseph University is an ideal setting for your next big event. With abundant parking, numerous dining options, and dedicated staff, we are committed to making your event a success.
Outside Rentals at Mount St. Joseph University 
Every year, more than 100,000 visitors set foot on the campus of Mount St. Joseph University for a wide range of events including competitions, performances, lectures, weddings, camps and more. In the past, world leaders and dignitaries such as Mother Teresa, President Joseph R. Biden, and Secretary of State Henry Kissinger have used our facilities. If we can accommodate them, we're confident we can support your event.
Overview of MSJ Facilities
Facilities Available for Rent
University Theatre 
With seating for more than 1,100, our University Theatre is one of the largest non-union theatres in Cincinnati. Find additional details about the University Theatre here.
Mater Dei Chapel 
With seating for up to 800, this beautiful, spacious chapel is an idyllic setting for weddings, liturgies, religious performances, and ecumenical services. Find additional details about the Mater Dei Chapel here.
Fifth Third Bank Dining Hall 
Capable of hosting a seated banquet for 325 guests, the dining hall is a flexible space for receptions of all kinds. Find additional details about the Fifth Third Bank Dining Hall here.
Recital Hall 
Adjacent to the University Theatre, the Recital Hall is available for smaller meetings, lectures and presentations as well as recitals. It seats up to 91 guests. Find additional details about the Recital Hall here.
Studio San Giuseppe Art Gallery
Located at the entrance of the Art Building, Studio San Giuseppe has a renovated, open floor plan with professional, updated lighting and wall space for art displays. Find additional details about the Studio San Giuseppe Art Gallery here.
Campus Quad 
An oasis in the middle of our mid-century modern campus, the quad is a wonderful setting for outdoor events, and it's big enough to host up to 1,000 guests. Find additional details about the Campus Quad here.
Athletic Facilities for Rent 
We might compete at the NCAA D-III level, but our athletic facilities are big league. From youth sports to extraordinary high school competitions, we're a great option for taking your event to the next level. 
Centennial Field House 
Opened in 2021, this 80,000 square foot, state-of-the-art facility features the region's only NCAA-regulation indoor track. It is also available for youth camps and special set ups. Find additional details about the Centennial Field House here.
Harrington Gym 
With seating for 2,000 and a host of amenities, Harrington can be set up in myriad ways to meet your needs for indoor competitions, such as basketball, volleyball, wrestling, and more. Find additional details about the Harrington Gym here.
Schueler Athletic Complex 
With bleacher seating for 1,800 and a brand new video scoreboard, Schueler has all the amenities to bring a marquee feel to any event. In the past, it has been used for football, lacrosse, soccer, track & field, cross country, outdoor field days, community events, and more. Find additional details about the Schueler Athletic Complex here.
Kinder Morgan Softball Complex 
Conveniently located off US-50 / River Road, the complex features a state-of-the-art lighting system, turf outfield, and dirt infield playing surface that allow for excellent playing conditions for softball and youth baseball, day or night. Find additional details about the Kinder Morgan Softball Complex here.
Use of Campus Facilities
The Campus Facilities Office plans and coordinates the use of campus facilities by student, and other campus groups, as well as external groups. University facilities are made available to the community for workshops, retreats, seminars, summer camps, and meetings as well as for entertainment and cultural performances in a wide variety of activities sponsored by off campus groups.
Conditions for Use of Facilities 
Booked events must be in accord with and support the mission of the University so students have the opportunity to profit from exposure to these events, which represent social, cultural and professional diversity. The use of facilities by outside groups must not infringe on student needs and on-campus rights.
Campus Facilities Office
Please contact the Campus Facilities Office at (513) 244-4327 or or (513) 244-4200 to rent space on campus. Rental costs of rooms are subject to change.