President H. James Williams, Ph.D., provides a campus update for the spring 2022 semester.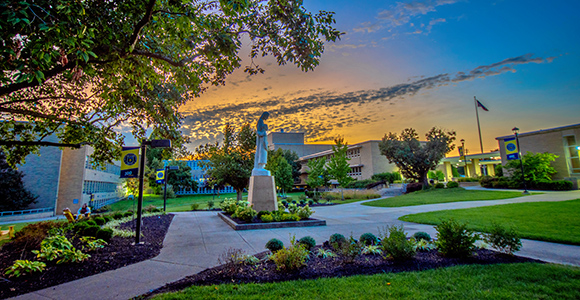 January 10, 2022
Mount Students, Faculty, and Staff:
Today, I envisioned and looked forward to welcoming you back to campus for the start of the spring 2022 semester.  Unfortunately, the Omicron variant of COVID-19 has proven to be a formidable health challenge with increased transmissibility unlike any that we have encountered before with COVID-19. With risks to your health on campus increasing and our ability to operate in-person in jeopardy, we have, once again, pivoted in terms of how we teach and work – as a temporary, albeit disappointing, necessity.
As of last Friday, we concluded the week with the highest rate of reported COVID-19 cases from students and employees that we have had during this Pandemic.  Yet, the impact of those reports on campus operations remained at a manageable level and contact tracing was conducted in a manner that quickly reduced campus risks.  We had been closely monitoring the Omicron variant since last month, knowing from experience that we could rapidly and seamlessly shift our approaches to teaching and working, if necessary.  Given our internal data, we remained hopeful that we could remain in person with business as usual despite the regional surge.   
Over the weekend, reports from students and employees skyrocketed.  As of Sunday evening, more than 100 faculty and staff were unable to work on campus this week due to isolation and quarantine.  Student reports were increasing at such a rate that would prevent many from being on campus to learn.  Importantly, the rate at which reports were being made would make rapid contact tracing a challenge, placing persons on campus at risk.  Consequently, we made the difficult decision to temporarily move to In*Sync virtual instruction for students and remote work status for employees.  We have done this before and we do it extremely well, although it is certainly not our preference.    
This shift is short-term.  We will reassess our campus data next week and make a final decision about when we will return to in-person instruction and normal operations. Now, more than ever, we must care for the lives of others and remain vigilant about our COVID-19 safety precautions both on and off campus: 
wear a mask over your nose and mouth when indoors on campus or in public;
immediately report any COVID-19 signs, symptoms, or diagnosis to the University;
if you are unvaccinated, report any COVID-19 exposure to the University, quickly; and
stay at home if you are sick.  
Given our high rate of vaccinations and the precautionary measures we have already taken, we are confident that, if each of us does our part to follow these steps, we will be able to return to on campus operations soon, and enjoy the in-person spring term that we have planned and are all looking forward to experiencing together.
Each year, as we begin the spring semester, we celebrate the birth, life, and legacy of Dr. Martin Luther King, Jr.  The Office of Diversity and Inclusion has announced the second annual "I Have a Dream Week," which will include activities designed to engage, inspire, and help each of us envision ways to carry forward Dr. King's work in a manner relevant for today.  Intelligence is not enough; it is important to remember Dr. King's quote: "it is intelligence plus character – that is the goal of true education." 
This academic term, especially as we adapt to change and challenge, I encourage you to take time to reflect on how you can impact the lives of others for the better.  If you take advantage of the immense opportunities you have at the Mount to learn, challenge yourself, and grow, you will undoubtedly continue the work of Dr. King in your own impactful way.   
Stay Safe … and Go Lions! 
H. James Williams, Ph.D.
President