I am pleased to share with you the Mount's vision for the next academic year.  While you will see many changes to campus life designed to protect the health and safety of our community, you will continue to experience the transformative curricular and co-curricular education that distinguishes the Mount.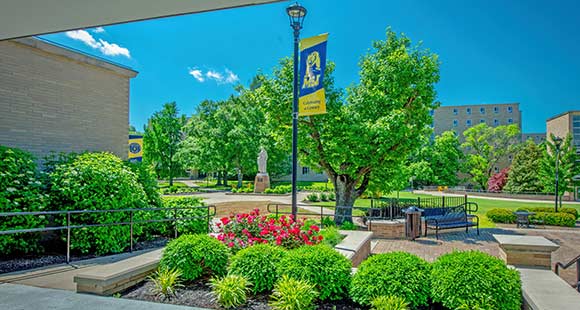 Dear Students:
I remain extremely proud of how quickly our faculty, staff, and students adjusted in the spring semester in the midst of one of the biggest challenges we have faced. The coming academic year will be unique in its own way, as we adapt to campus life in the time of COVID-19.
While the pandemic has created a "new normal," it has not altered the Mount's mission or ambitions.  It has given us a rare opportunity to examine everything we do for our students and to reimagine all aspects of our operations. The result is that we have become more innovative and creative, we have developed new techniques and approaches, and we have launched initiatives to ensure the well-being of the entire campus.  Undoubtedly, this crisis has helped us to position the Mount to thrive in the future. 
I am pleased to share with you the Mount's vision for the next academic year.  While you will see many changes to campus life designed to protect the health and safety of our community, you will continue to experience the transformative curricular and co-curricular education that distinguishes the Mount.   While I cannot include all of the details in this letter, I intend to give you a general idea of what you can expect.  I hope that you are as excited about it as I am.
Fall Semester Course Formats
Fall semester will begin on August 24, 2020 as originally scheduled. To facilitate a healthy campus environment, course formats during the fall semester will be a combination of in-person classes and labs, virtual classes, and online classes. Course descriptions on myMount clearly delineate the type of course for which you will be registering and any on-campus requirements for those courses.  The course schedule will be updated and available by July 1st.  There are four different formats for course delivery:
In-person classes (On campus at assigned times)
 The Mount will offer some in-person classes in the fall. The University will hold in-person classes in large classrooms where social distancing measures can take place and students and faculty can remain safe.  Please refer to the Mount's COVID-19 Safety Guidelines that details protocols for in-person classes.
In-person clinicals/practicums (At assigned locations and times).
 Clinicals and practicums are experiential learning courses delivered in a clinical or educational setting at assigned times using hands-on learning.
In*Sync Virtual Learning Experience (No on-campus meetings required)
 The Mount has performed a significant amount of research and invested heavily into developing the In*Sync Virtual Learning Experience for our students.  In*Sync courses are flexible, virtual courses that combine the best of online and face-to-face instruction. Like online, the courses are highly structured and include own-time (asynchronous) learning, where you learn on your own schedule, and real-time (synchronous) learning, where you use technology to engage directly with faculty and classmates, much like  face-to-face classroom instruction.
Online classes (No on-campus meetings required)
 Online courses are virtual and include a variety of learning methods, including readings, videos, voice-over PowerPoint presentations, and discussion boards.  With a few exceptions, all content is asynchronous – you work on your own schedule to meet given deadlines for assignments. Content is delivered through Blackboard and courses are highly structured.  Some online courses are seven-week or eight-week accelerated courses; some are 15-week courses that extend over the entire semester.
Tuition
Tuition at the Mount will remain the same regardless of whether a course is taught virtually or in an in-person setting. Tuition is set by the Mount St. Joseph University Board of Trustees. All courses, regardless of format, will meet the same learning objectives, award the same credit hours, and be taught by the same outstanding faculty.
The Mount has incurred significant additional expenses related to instituting new health-and-safety protocols to ensure a safe on campus environment, as well as developing a state-of-the-art virtual learning experience for our students. While these investments are significant, they will make being together on campus possible this academic year and will enhance the student experience at the Mount.
Fall 2020 Academic Calendar
The academic calendar for the fall of 2020 remains unchanged. Classes will begin on August 24th and end on December 10th.   Please note that all in-person labs and classes will be completed by Thanksgiving. All classes and final exams after Thanksgiving will be virtual. The fall 2020 Graduation Ceremony will be scheduled for December 12th, with the Baccalaureate Ceremony on December 11th.
Cooperative Education
The Mount has the most comprehensive Cooperative Education program in the region and will continue to offer the program this fall.  The Career and Experiential Learning Center will open on August 3rd and will be able to accommodate both in-person and virtual appointments, depending on the student's comfort level.
Athletics
The Mount, after consulting with the Heartland Collegiate Athletic Conference (HCAC), has announced practice start-dates for the following fall sports programs:
Football - Upper classmen report to practice on August 10th, with all others reporting on August 11th;
Men's Soccer – Practices to start on August 14th;
Women's Soccer – Practices to start on August 17th;
Men's and Women's Golf – Practices to start on August 24th;
Men's and Women's Cross Country – Practices to start on August 17th; and,
Women's Volleyball – Practices to start on August 20th.
 The Athletics Department continues to work with the HCAC to finalize schedules for the fall 2020 athletic season.  Student-athletes, coaches, and officials will be subject to in-person health screenings prior to each practice and competition.  Plans for athletic spectators are still being considered but will be significantly decreased from prior years to reduce the spread of COVID-19, consistent with the Mount's COVID-19 Safety Guidelines.  
Traditional Student Orientation
Traditional student orientation will take place on August 19th, 20th, and 21st from 8am to 7pm for traditional and transfer students.  There will be evening activities that follow the Mount's COVID-19 Safety Guidelines planned after 7pm.  Students will only be required to attend one of these orientation sessions.
Students will also participate in Zoom meetings with their orientation leaders and a small group of their peers, either today, June 26th, or on July 24th.  Orientation leaders will reach out to each student weekly through text messaging to stay connected, foster support, and answer any questions.
Adult Student Orientation
Adult student orientation, which includes adult transfer students, will be held on August 17th from 5:30 – 8:30 pm.  A Zoom meeting, sponsored by the Office of Admissions and the Office of Student Affairs, is being organized exclusively for incoming adult students who would like to learn more about the Mount's campus resources. 
Welcome Weekend
Welcome Weekend will be hosted on August 22nd and 23rd, as part of the student orientation experience. Programming throughout Welcome Weekend will adhere to Mount COVID-19 Safety Guidelines and will include Mount traditions such as small group get-to-know-you sessions with your orientation leaders and new classmates, the Mount's commissioning ritual to induct new students into our community, our Campus Activities Showcase, and a dinner and dance at the Newport Aquarium.
Students participating in orientation should complete their orientation reservation form in their Student Portal through their regular admission process. Confirmation of dates, times, and locations for orientation programs will be sent to each student via email.
We will be following all health-and-safety protocols outlined in this letter for these events including maintaining groups no larger than 10 students.
Fall Student Activities and Intramurals
Throughout the fall semester, various student organizations and the Office of Student Engagement and Leadership will host student activities in compliance with the Mount's COVID-19 Safety Guidelines.  Activities will include trivia, karaoke, bingo, movie nights, bowling, Exam Jam, open-mic night, and Community Trick-or-Treat as well as other events and activities throughout the city, such as trips to the Cincinnati Zoo, Reds' Games, Kings Island, Newport Aquarium, and more.
Intramural activities will also return in the fall and will follow the Mount's COVID-19 Safety Guidelines with new and different offerings. Be on the lookout for more information on how to participate in the Mount's intramural activities in the near future.
Student Services Open For In-Person Appointments Beginning July 1st
All Mount offices remain open to provide services to students by telephone or virtually.  Beginning July 1st, the following offices will be open for in-person appointments:
 Please contact these offices at the telephone numbers above, by e-mail, or through the MountRoar app to schedule an appointment.  Beginning August 3rd, all Mount offices will be open for in-person appointments. 
Residential Housing
Seton Residential Hall will be open in the fall with policy changes necessary to protect the health and safety of residents and to ensure social distancing, including the following highlights:
Students must wear facial masks at all times when they are not in their assigned dorm rooms;
Social distancing of at least six feet must be maintained at all times when students are not in their assigned dorm rooms;
No outside guests will be permitted in Seton Residence Hall at any time;
Students must perform daily health checks prior to leaving their assigned dorm rooms each day;
Students currently assigned to Center Suites will remain in that space with their requested suitemate, if they wish, because each student has separate bedrooms;
Students currently assigned to traditional double-occupancy rooms will be reassigned to single-occupancy rooms but the cost will remain at the lower-priced double-room rate; and  
Room assignments in particular areas of Seton Residence Hall cannot be guaranteed due to the needed changes to allow for social distancing.
Due to these changes, on June 25th, all residential students received an important email communication from Dean Janet Cox providing them with details on their residential housing options for 2020-2021.  All residential students are asked to respond to the communication from Dean Cox no later than July 13th. 

Fifth-Third Dining Hall and Campus Food Services
The Fifth-Third Dining Hall, the Food Court, and Starbucks will be open on campus, beginning in August. Each location will implement health-and-safety measures that conform with State of Ohio Health Department recommendations.  While the manner in which food services are provided will change, such as "grab and go" meal options versus buffets, you can still expect the same high-quality food and student experiences.
Due to some of these health-and-safety precautions, the Mount has reduced its 2020-2021 meal plan costs. If you have previously selected a meal plan, your choice will remain the same with the appropriate reductions credited to your account.  To review your current meal plan or to ask any questions about food service changes, please contact Linda Loveless in Student Affairs, at (513) 244-4304.

Faculty and Staff Return to Campus
The Mount has remained open for business but with physical facilities closed throughout the pandemic.  Faculty and staff have been on "remote work status" and working from home when possible.  In June, the Mount launched a phased-in approach to return faculty and staff to campus, while balancing the goals of reopening all in-person campus operations and keeping employees safe.  Employees' work schedules are being evaluated to reduce campus density while encouraging work-from-home options, where possible.  Some campus offices will reopen for in-person appointments on July 1st.  On August 3rd, all campus offices will open for in-person appointments.  Please contact any campus office directly to schedule an appointment, or make an appointment using the MountRoar app.  

University Travel
All University-related travel outside of the Greater Cincinnati area will continue to be banned until further notice, with the exception of travel for athletic competitions. If any faculty, staff, or students travel abroad, they will be required to self-quarantine for a minimum of 14 days prior to returning to campus.

Timely MD Services
The Mount is pleased to continue to offer all students free medical and mental health services any time of day and from any location using TimelyMD, a telehealth app.  TimelyMD physical and mental health services compliment the scope of in-person student services offered at the Mount's Wellness Center.  Click here to learn more about how to use TimelyMD and the services that are offered.
 COVID-19 Safety Guidelines 
The Mount has developed comprehensive COVID-19 Safety Guidelines to return our students to campus while ensuring the health, safety, and well-being of all in our community.  The Guidelines are premised on all individuals taking responsibility to monitor their health, following safety and hygiene protocols, and reporting their status when required.  
The Mount's Guidelines include the following highlights:
All students, faculty, staff, and visitors must self-assess for symptoms daily to be able to access campus. A technology-based application will be made available for daily symptom checks and assessment, beginning in August;
All students, faculty, and staff who have signs or symptoms of the virus, have been exposed to the virus, or have been diagnosed with the virus—even if they have not been on campus or do not plan to come to campus—must immediately report to the Wellness Center (for students) and the Office of Human Resources (for employees) to allow for contact tracing, monitoring of self-isolation and quarantining, and to ensure adherence to return-to-campus health requirements;
Facial masks covering the nose and mouth will be required on campus unless individuals are alone in a room, eating, drinking, or exercising;
Social distancing practices will be required, in that individuals should be at least six feet apart unless required by a specific classroom activity or job duty;
Specific plans for classrooms where face-to-face learning is required and for common areas are being developed, based on area limitations and room capacity;
Signage encouraging regular hand washing and covering coughs and sneezes, reinforcing wearing facial masks, and reinforcing social distancing are being placed strategically, across the campus;
Enhanced sanitation of the campus environment will be conducted, and adequate hand sanitizer and sanitizing wipes will be provided;
Plans for enhanced disinfection of frequently used common areas will be implemented;
Food service will operate with modifications that include transition of self-serve food options to served food options and pre-packaged options; and,
Individuals who do not need to be on campus for class, work, studying, athletics, or activities will continue to be encouraged to remain at home to reduce campus density.
 Although these hygiene and safety protocols are basic principles that will frame the Mount's operations, changes will be required for specific facilities and activities, as set forth in the Guidelines, to further reduce the risk of virus transmission.  These changes are designed to minimize on-site and in-person interactions, even as the Mount provides a vibrant experience for our students and continues to fulfill our mission of education, service, and care.
We have created a COVID-19 Health-and-Hygiene video that we are asking all faculty, staff, and students to review before returning to campus.  Click here to review the video. 
Future Updates
With this information, I hope you have a better understanding of what you can expect from your Mount experience this academic year—it is going to be unique, and remarkable!  As a campus community, we need to remain open and adaptable in our planning as we receive new information we may not be able to anticipate. Most importantly, all of us will need to exhibit the spirit of community and collaboration that characterizes the Mount in order to keep every member of the campus community safe. Know that we look forward with great anticipation to welcoming you back to campus this fall.


Until we gather again on campus, you and your loved ones remain in my prayers.  


Regards,


H. James Williams, Ph.D.
President