Mount St. Joseph University has been carefully monitoring the COVID-19 situation. At this time, there are no known cases at the University, and we are taking the following precautions to keep our community safe.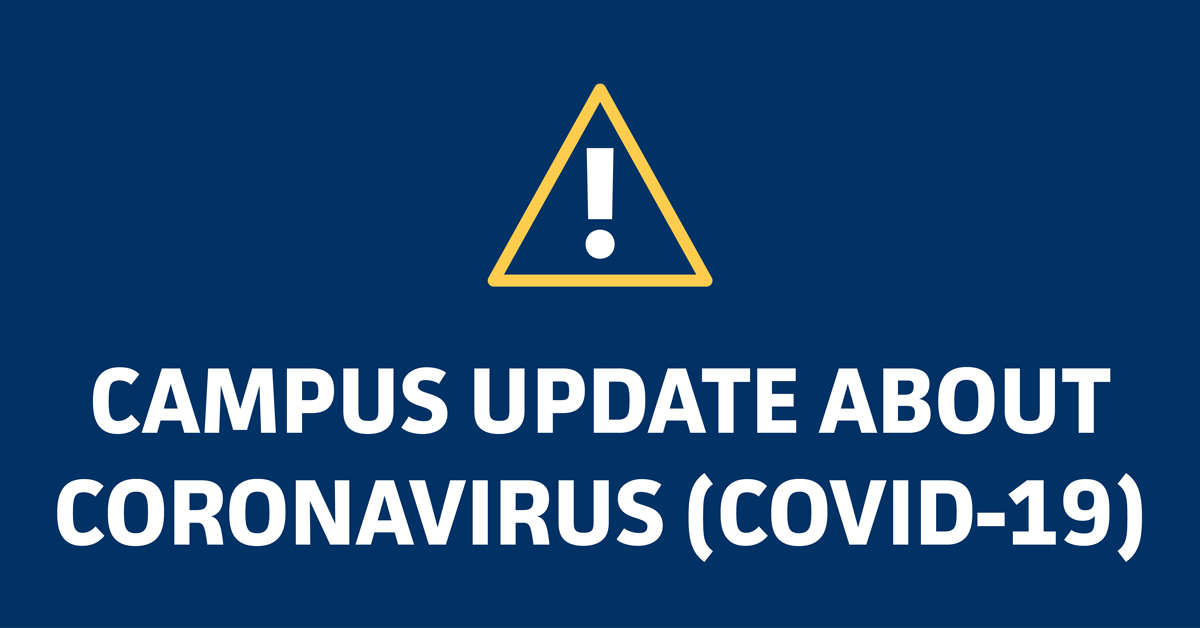 Dear Students, Faculty, and Staff,
The COVID-19 situation continues to evolve daily, and Mount St. Joseph University (University) leadership is closely monitoring the impact on students, faculty, and staff. 
Community members have been proactive in complying with and responding to the University's COVID-19 safety guidelines that were communicated on Tuesday, March 10, 2020.  These guidelines can be accessed at www.msj.edu/response, are being evaluated on an ongoing basis using information from the Centers for Disease Control and other health agencies, and will remain in effect until further notice. 
Following Governor DeWine's press conference on COVID-19 that was held yesterday, the University is providing this important update about its continued operations.  The University is taking preventative measures to keep the University campus safe and open for business while continuing to support student success and help students stay on track to graduate. 
"Keep Learning" Remote Classes Will Launch on Monday, March 16, 2020
The University is ready to launch its Keep Learning remote classes on Monday.  More information about Keep Learning remote classes, including details about the resources available to students during this transition, will be sent soon.  The ISS Helpdesk, that can be contacted at 513-244-4357 and through Mount Roar!, will be equipped to direct student's remote learning and technology questions to the appropriate personnel.    
Seton Residence Hall Update
With the implementation of Keep Learning remote classes and the uncertainty of COVID-19, the University urges residential students to consider remaining at their permanent residence (at home) instead of returning to campus after spring break.  However, to ensure that all students are served, the Seton Residence Hall will remain open for those students who choose to return to campus after spring break. 
The University urges all students to make the choice that is best for their own personal circumstances.  Of course, in the event of a change in the COVID-19 situation and/or external directives, the University may close the Seton Residence Hall with short notice.
If you are a residential student and choose to return to the Seton Residence Hall after spring break, please contact Jeff Hurley, Coordinator of Residence Life, at 513-244-4304 or at jeff.hurley@msj.edu as soon as possible, but no later than Monday, March 16, 2020 at 5:00 p.m. to confirm. 
Campus Food Service Update
The 5/3 Dining Hall will be open beginning Monday, March 16, 2020 and will provide food service for all meals.  The Harrington Center Food Court and Starbuck's will be closed.
Employee Telecommuting Update
The University recognizes that employees—in addition to persons who may be considered high-risk for contracting COVID-19—may wish to seek telecommuting opportunities during the COVID-19 outbreak.  The University is committed to supporting its employees by offering alternative work arrangements if an employee's job responsibilities permit.  To seek telecommuting opportunities, faculty, staff and student employees should contact the Director of the Office of Human Resources, Lisa Kobman, at 513-244-4979 or at lisa.kobman@msj.edu. 
Childcare Center Update
Because childcare is a necessity for many, the Children's Center will remain open for the currently registered children of faculty, staff, and students while employing additional safety measures.  Childcare services will be offered to these children on the same days and during the same hours for which they have been registered this semester.  Faculty, staff, and students who wish to continue to use the services of the Children's Center are asked to contact Janet Baltzersen, Children's Center Manager, at 513-244-4972 or at janet.baltzersen@msj.edu as soon as possible, but no later than Monday, March 16, 2020 at 5:00 p.m. to confirm. 
University Services, Activities, Events and Meetings Update
On March 10, 2020, the University prohibited new, non-essential activities, events, and meetings from being scheduled on the University's campus or elsewhere.  Persons who organized University activities, events, and meetings scheduled prior to March 10, 2020 remain encouraged to evaluate whether these activities, events, and meetings are necessary and, if so, to consider alternate methods of execution.  Web, video, and telephone conferencing are available and strongly encouraged.   
Please understand that, while the University remains open for business, the hours of operation of certain University departments may be altered.  Please call or check the website for operational hour changes.  "Social distancing" is a key practice for preventing the spread of COVID-19 and is included as part of the University's COVID-19 safety guidelines.  All persons are asked to please call for services and support whenever possible. 
Students should be aware that certain activities, events, and services will be reduced or eliminated due to the University's COVID-19 safety guidelines. 
The University will serve as a Hamilton County Board of Elections voting location on Tuesday, March 17, 2020 consistent with the State of Ohio's decision to continue state-wide elections.  Voters will be limited to accessing the Theater Lobby voting area only.         
Centennial Jubilee Rescheduled
The sold-out Centennial Jubilee has been postponed from Friday, April 3, 2020 until Saturday, September 12, 2020, which is Founder's Day weekend and marks the University's 100th anniversary.  More details will be shared about the rescheduled Centennial Jubilee in the future. 
Information Safety
The move to remote teaching unfortunately provides increased opportunity for scammers to attempt to breach our secure systems and steal personal information.  Faculty, staff and students should be on alert and recall that the University will never send e-mails:
Wanting you to click a link to verify accounts
Requiring login to access a secure email
Requesting payment for parking tickets online
Asking you to click a link to update software
Asking for login to update your email
Asking to update payroll information
Offering jobs outside of Paycom
Asking for urgent purchases of gift cards
Asking for payment for an invoice that is not familiar to you
With threats regarding exposing your internet activity
Asking for Bitcoin purchases
Asking to verify banking/Routing information
With attachments with nothing but a link on the attachment
Demanding urgent tuition payment/other fees
Threatening adverse consequences for not clicking the link
This remains a challenging time for our community and world.  As a University, we continue to come together and support each other for the common good.  Please remain vigilant about your own personal health, adhere to the University's COVID-19 safety guidelines, and do your part to help our University community stay safe.
Sincerely, 
Diana Davis
Provost
Mount St. Joseph University