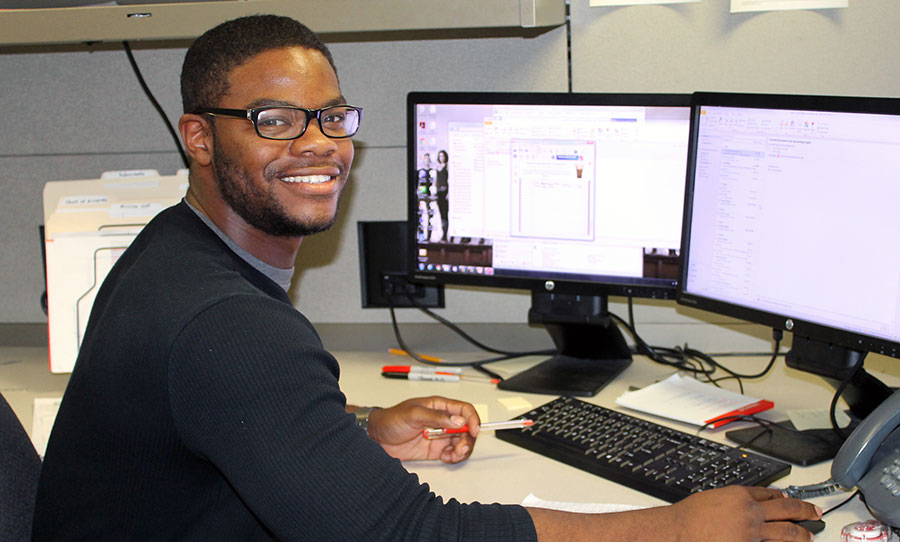 The Mount's emphasis on ethical leadership and social responsibility attracts students with great values and a strong work ethic. Our curriculum develops skills in written and oral communication, critical thinking and decision-making, which means our students and alums provide a powerful contribution to your organization.
Career & Experiential Education Center
Our Career and Experiential Education Center provides full-time support to students and alums looking for jobs and employers looking to hire. We are eager to partner with you to create a customized recruitment strategy for your organization. We invite you to connect with us.
Table of Contents
Academics and Fast Facts
At the Mount, we offer a wide range of undergraduate majors, minors, certificates, and preprofessional areas of study. See the complete list.
We also offer a number of graduate programs for those with undergraduate degrees who want to advance their careers. See the complete list.
Interested in learning more about the Mount? Then check out our fast facts page.
---
Cooperative Education
Cooperative Education allows undergraduate students of all majors to integrate their classroom learning with professional experience and enrich your workplace. Our co-op students are eager to learn and obtain new skills. They lend a fresh perspective and bring energy to the workplace. Our students can serve as a liaison to campus for your company. Co-op provides an ideal way to transition students to a full time position after graduation.
Our award-winning co-op program has been in existence for 30 years. To learn more about co-op at the Mount, check out our how co-op works page. If you are interested in participating in our co-op program, please email us at career.center@msj.edu.
An Employer on Mount Co-op
"The Mount students bring a strong work ethic and academic training, encouraged and supported by the Mount faculty and Career Center personnel. This personal support and attention results in an excellent transition to the workplace."
Dr. Kenneth A. Leslie, Cincinnati Children's Hospital Medical Center Human Resources Scientist Recruiting
---
Career Fairs
We proudly offer a fall career fair annually to help employers network with our students. Please let us know if you'd like to participate.
Career Fairs
We proudly offer annual career fair and several smaller on campus and virtual events to help employers network with our students. If you are interested in joining us for on-campus and/or virtual event(s), please email us at Career.Center@msj.edu.
Fall Career and Co-Op Fair
This fair is open to employers who wish to hire Mount students or alumni in either co-op or full time (degree-required) opportunities. Organizations from corporate, government, and non-profit sectors are invited to attend. Please email Career.Center@msj.edu for more information.
Southwest Ohio/Northern Kentucky Education Career Fair
The Mount participates in a consortium Education Career Fair with University of Dayton, Northern Kentucky University, Wilmington College, University of Cincinnati, and Xavier University. Each year this Career Fair allows students to connect with employers from local, national, and international levels on Xavier University's campus at the Cintas Center in March.
---
Connect with Our Students
Interested in building your brand on campus to improve your recruiting results? We suggest that you partner with us through the programs and services that we offer to students. You will find that the CEEC staff are responsive to your needs. At the Mount, you will liaison with one lead team member making your connection with us easy and efficient.
Below are ways that you can connect with students and alumni.
Speaking Engagements
Present to students about their career options through either of the following options:
Career & Experiential Education Center (CEEC) Courses: The CEEC offers three courses for Mount students: Career Exploration for the Undecided Major, Professional Development and Building Your Professional Edge. Career Exploration focuses on helping students reflect on their skills, talents and interests and facilitate career and/or major decision-making. Professional Development prepares our students for co-op and post graduate positions through seminars about resume and cover letter writing, mock interviews and job search strategies. Building Your Professional Edge is an advanced class that further develops the competencies necessary for career readiness. Students develop a branding strategy and integrate career planning elements into a personal career marketing plan.
Connect to Your Future: This event was designed to allow alumni and friends of the Mount to come to campus to speak to students about their career options. In this casual, round table setting, students are able to ask questions about the designated career path. Connect to Your Future typically takes place in October.
Social Media
Join our LinkedIn group: We encourage employers to join our CEEC's LinkedIn group as we encourage our students and alumni to do the same.
On-campus Recruiting
Employers who recruit on the Mount's campus benefit from convenient parking, interview rooms, and wireless internet access. Dates are available throughout the fall and spring semesters. Fall interviews take place from September-November and spring interviews take place from February-April.
On campus recruiting efforts include:
interviews
information tables
Feeling creative? Work with us to create a unique event of your own.
If you would like to recruit on campus, please email us at career.center@msj.edu.
---
Post a Position
Post a position using our career management system, Mount Connect. Follow the prompts to register. Once your organization is approved you will have access to view student and alumni profiles and career materials. Please view our Job Posting Policy for guidelines.
---
Principles for Ethical Professional Practice
The Career and Experiential Education Center adheres to the Principles for Ethical Professional Practice created by the National Association of Colleges and Employers.
It is our expectation that all employers requesting use of our services also observe these guidelines, including compliance with all equal employment opportunity, affirmative action legislation, and reasonable offer deadline guidelines. For more information about the principles, contact the National Association of Colleges and Employers, Bethlehem, Pennsylvania at 800-544-5272.
---
Schedule of Events