For many front line employees arriving to Amazon, this is just a job until it becomes a career.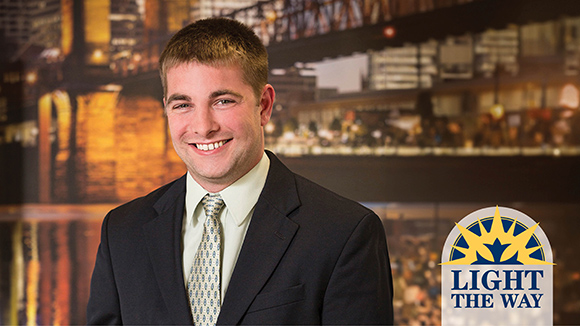 Reaching his fourth anniversary as Operations Manager at Amazon, 2018 MSJ alumnus Patrick Russell's fulfillment as a manager is leading authentically to develop others' skillsets, taking it upon himself to act as a stepping stone for employee career longevity to show others what's possible.
"A lot of times, they'll come in thinking oh, I'll just be here for six months. Yet we have management or senior management that have been here for ten years and gone from a front-line employee to multiple different roles moving up within the organization" says Patrick.
Sometimes even a last resort job for individuals, Patrick has learned how to communicate with new employees, treating them with dignity and authenticity. "I like to think that I can communicate with any type of person, because I understand what these same people are going through living paycheck to paycheck," he adds.
A Life-Long Mentor
Patrick grew up in Price Hill with his mother and six siblings, where he endured hardship getting his basic needs met. As a result, he spent time in foster care before meeting his mentor Harry at school when he was just nine years old.
He met Harry Blanton through Cincinnati Youth Collaborative, a nonprofit organization partnering with Cincinnati Public School.
"I think the teacher probably saw something in me or that I could maybe gain some additional support while meeting with a mentor," says Patrick. "When Harry came into my life there was a time where I was at a crossroads. I could have gone a really bad way as a kid, or I could go the way he was guiding me, so I think it's pretty important."
The mentors would visit the school, introduce themselves, and hangout. For Patrick and Harry, their visits turned into hanging out every Saturday going to football games, and doing homework.
"Harry has taught me everything, from going to a restaurant and knowing how to eat at a restaurant with silverware using proper etiquette. Just things that as a kid in Price Hill you're not thinking about at the time. So for me, going to a place like TGI Fridays seemed very upscale because I'm growing up with no food or water."
To Patrick, Harry is a parental figure. He says Harry is even a grandfather to Patrick's 1-year-old daughter, Layla. After his father's passing in 2013, Harry has continued to be a part of Patrick's life.  
"His family has become my family. They took me in immediately. Harry is a saint. After mentoring me he mentored another kid and helped mentor their whole family. We're pretty lucky to have him," Patrick gratefully says.
Learning, Leading, Serving Forward
With Harry's guidance, Patrick graduated St. Xavier high school and Xavier University before starting his Master of Science in Organizational Leadership (MSOL) program while he worked at TriHealth, which offers a program partnership with the Mount.
A people manager his entire career, his main goal was to continue honing his management and leadership skills. He views leadership like a moving target to build upon over time.
"I was a young leader and I wanted to understand what other people were going through and some things I could learn from them as I grew into a leader," he reflects. "Leadership changes rapidly through time. The situations in society fluctuate that we're going through so I've been trying to rapidly adjust as that adjusts."
Patrick enjoyed the process of learning about different leadership styles, connecting with others, building rapport, and discussing how to best lead inevitably tough conversations when managing others. Besides networking with other professionals, some of the best things MSOL has taught him is applying the learnings that fit his life the best.
Now serving his alma mater, Patrick mentors in a leadership program at the Mount called "LeaderTrek," coaching nearly 30 students. LeaderTrek is an on-campus program designed to build capacities of leadership, and he provides a journey-mapping experience for students to map their goals to determine what's ahead.
"In LeaderTrek, students learn diverse views on leadership, and can pick experiences that fit them." Patrick adds.
In the workplace, Patrick identifies with an authentic leadership style to forge genuine, transparent relationships with employees to build connections while getting the job done.
"I want them to know I like to have fun, but at the same time, we have to get down to business too."
A Ripple Effect
Through Patrick's steady evolvement since having his mentor Harry, Patrick realized how important it was to impact others at an early age, as Harry has done for him.
"Overall it creates a trickledown effect. The positive environment that you want to create, so when I do that with my little brother, family, etc. They do that with their friends, and it creates a snowball effect that corresponds back to the community."
Patrick has tried to instill these values with his family. Patrick and his wife Ashley had his nephews for several months until this past May. He often found himself teaching them things he wishes he knew as a child like learning chores and saving the money made from the completion of them. Patrick helped his younger brother get into a private school. He is now a sophomore at UC. Patrick walked his brother through what it's like to save money and pay bills in order to build good decision-making habits.
As for his volunteer efforts, some of Patrick's favorite memories while he worked at CitiBank were from his involvement as Co-Chair in Adopt a Class, a mission-led nonprofit that prepares young people for a future beyond the classroom.  
"It was nice seeing how the kids would light up every time you would see them; whether it's going there for Halloween, or doing special science projects," he reflects.
He emphasizes the importance and meaning behind building relationships with the kids, as they face challenges receiving proper attention in the classroom and at home.
"The biggest thing you want to show kids is love and compassion. It's the easiest thing that you can do in a world that is constantly taking from you. There are many of these kids that go home, maybe a child among four or five others and they're not getting a lot of attention. All they want to do is tell you about their day. What they did with their family, what they did that weekend, what books they can read. It's giving them that love and compassion and just giving them the time."
With 20 kids in a class, it's very hard to keep that same motivation and enthusiasm.
"That's why it was cool to come into Adopt a Class at CitiBank with all the kids happy to see you and excited! They remember you and there's these small moments where they remember you. You have to teach them how to be respectful and how to treat people. Those are some things I look at when I try to help our youth."
Patrick continues to try to make an impact with his community. Currently, Patrick is on the Board of Directors for BeGreaterWith, a nonprofit that focuses on instilling confidence in young student athletes. He is the VP Chair for Amazon CVG2 Glamazon Affinity Group focused on LGBTQIA+ community and initiatives. He helped build the Diversity, Equity and Inclusion (DEI) Board for Amazon CVG2 Mastodons. The DEI board helps build structure for their 12 affinity groups at his site.  Patrick and team have held as many as 27 volunteer events this year. Patrick is grateful for leading this work and for the work that lies ahead.
"There are a lot of cool things we've been able to do here, and it's a big thing that I enjoy doing. Once you get people to buy into giving back, they start volunteering and they start taking pride in their company. They start enjoying where they work, they start sharing that with people and you lose people less often from attrition and then you recruit more talent that way too."
Looking for Flexible Program Options? Serve Forward with the School of Business
Are you a working professional who is interested in developing your passion and expertise? At the graduate level, our MBA and MSOL programs offer market-relevant courses in business as well as interpersonal and leadership skills. We even offer flexible programs to fit your busy schedule. Visit our School of Business page to learn about our flexible offerings.