Sister Annette Muckerheide celebrates her Diamond Jubilee of 60 years with the Community.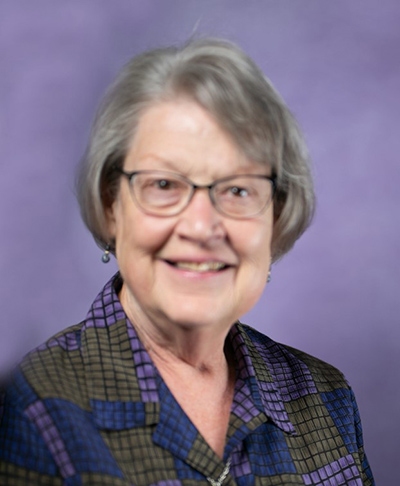 "I love being a Sister of Charity of Cincinnati, and am grateful for many wonderful relationships, for the incredible support and challenge that being a Sister of Charity has brought," Sister of Charity Annette Muckerheide said upon the celebration of 60 years with the Community. "Membership has pushed me to grow and I know I would never have become who I am without the love and support of my Sisters."
Sister Annette is a native of Cincinnati, Ohio. She attended Cardinal Pacelli School for grades one through four, and later St. Ursula Academy for grades five through eight. It was there that she first realized her calling.
"I knew I belonged in a religious community in the fifth grade, thanks to the influence of a wonderful Ursuline, Sister Mary Oliver, who was funny, kind, warm and a great teacher," Sister Annette reflected. "She taught about God in a very loving way."
According to the May 2011 issue of Mount News, a publication of the College of Mount St. Joseph (now Mount St. Joseph University) in Cincinnati, Sister Annette has always been intrigued by science; at the age of 3 her chemical-engineer father would take her on trips to his lab.  
Sister Annette received her bachelor's degree in biology and chemistry in 1963 from the College of Mount St. Joseph where she became acquainted with the Sisters of Charity. After graduation she entered the Community.
"What influenced me the most about the Sisters of Charity was and is the way the Sisters loved one another, cared for one another, were real people with each other and the students," Sister reflected.
In 1973, Sister received her master's degree in biology from Drake University in Des Moines, Iowa, and later her Ph.D. in microbiology and immunology from the University of Cincinnati in 1978.
Sister Annette began her teaching ministry at St. Pius X High School in Albuquerque, New Mexico, in 1965. Later, in 1966, Sister ministered as secondary teacher at Holy Name High School in Cleveland, Ohio, until 1972. In early 1972, she served as secondary teacher at Archbishop Alter High School in Kettering, Ohio.
In the fall of 1973, her ministry once again led her to the College of Mount St. Joseph where she completed 34 years of teaching biology in June 2011. She was chairperson of the Department of Biology for most of those years.
After officially retiring S. Annette volunteered for 10 years at Working In Neighborhoods, a nonprofit organization formed to help low- and moderate-income residents in Cincinnati's neighborhoods, mainly in an after-school program that provided tutoring, recreation and support. She now serves on Mount St. Joseph University's Board of Trustees as well as several committees for the Sisters of Charity.
In her spare time Sister enjoys reading, making music (voice and flute), gardening, knitting and crocheting, needlework, quilting, hiking and almost anything outside.
***
The Sisters of Charity of Cincinnati, an apostolic Catholic women's religious community, exist to carry out the Gospel of Jesus Christ through prayer and service in the world. Sisters, using their professional talents in the fields of education, health care, social services and environmental justice, live and minister in 16 U.S. dioceses and in Mexico. Approximately 200 Sisters are joined in mission by 204 Associates (lay men and women). Visit the Sisters of Charity of Cincinnati website at www.srcharitycinti.org.