Join Mount St. Joseph University for the MSJ 5K!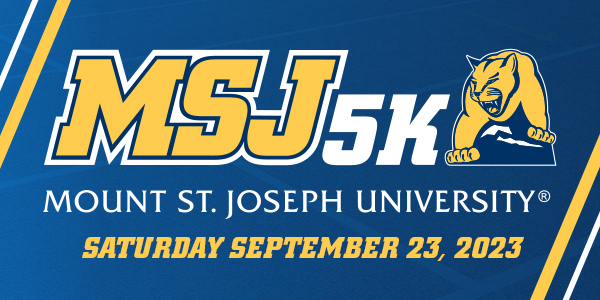 CINCINNATI, Oh. – Mount St. Joseph University (The Mount) is thrilled to announce its upcoming event, the MSJ 5K, set to take place on September 23 at 8:30 a.m. on the Mount's campus located at 5701 Delhi Road in Cincinnati. This event promises to bring together the community in a fun and active way.
The MSJ 5K is open to participants of all ages and fitness levels, making it a perfect event for families, friends, and individuals looking to enjoy a day of physical activity and camaraderie. This event offers something for everyone.
"We are excited to welcome our community for the return of the MSJ 5K race," said Dr. Christy Heinrich, assistant professor, department of physical therapy. "This event aligns perfectly with the Mount's sense of community and wellness, and is the collaboration of faculty and staff from many departments that have worked endlessly together to bring this race to fruition. We cannot wait to see you all on race day!"
Participants will have the opportunity to explore a captivating course that winds through the campus of Mount St. Joseph University. The route will showcase the University's commitment to promoting wellness and fostering connections within the community. There will also be pre-race and post-race events.
Registration for the MSJ 5K is now open and can be completed online here. The general registration fee is $25; and $15 for students, MSJ faculty and staff, 17 and under, and seniors (65+). Registered participants will receive a commemorative t-shirt and awards. Participants must register by September 1 to guarantee a t-shirt. 
About the Mount
As a Catholic institution rooted in the values of the Sisters of Charity, Mount St. Joseph University excels at serving the common good. Undergraduate, graduate, and doctoral students at the Mount are inspired to think beyond the classroom and redraw the bounds of what's possible for their futures. This is accomplished through individualized educational experiences, a safe, secure campus environment, and an all-in commitment from faculty and staff to inspire students to reach their highest potential. The Mount fosters life-long learners who serve, care, and contribute to the world beyond their front doors.