On July 22, family, friends, and MSJ staff & faculty gathered to celebrate and remember the life of Gina Damman through a memorial dedication.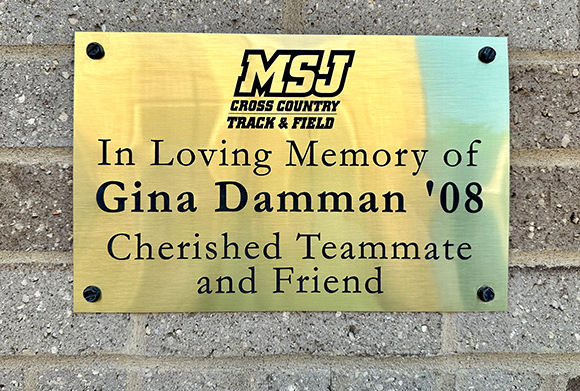 MSJ graduate, Gina Damman '07, unexpectedly passed away on June 4, 2022—just over a year ago.
Gina was a member of the cross country and track team during her time as a Lion, and grew close bonds with her teammates and coaches.
One of these teammates is Hilary (Neu) Carvitti. As a way to cement Gina's legacy into the Mount, she requested and advocated for a memorial plaque to be erected outside of Schuler Field: a significant place for every athlete at Mount St. Joseph University.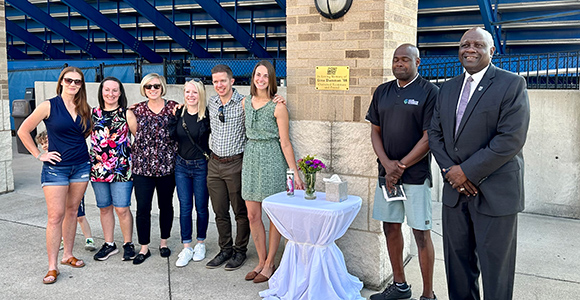 In photo: MSJ staff and alumni gathered together at Gina's memorial plaque dedication service.
In Remembrance of Gina
Several MSJ staff and alumni provide personal reflections in honor of Gina's remembrance:
"Gina and I were teammates on the MSJ cross country and track teams. We were a tight [knit] group of girls--as well as with the men's roster. We had countless memories that we all look back on in fondness. Our time at the Mount was so special, and being a part of the team was a big part of that experience. At Gina's memorial dedication this weekend, a theme in the words that were shared was Gina's spunk, her zest for life. What always impressed me about Gina was how confident she was to take a risk and have an adventure rather than always making the 'safest' choice for her future. She was someone who made every moment fun. I can hear her laugh in my memory. Her smile stays with me when I think of her. She is still with us, and what she taught me challenges me to keep my own life fun and light." - Hilary (Neu) Carvitti, MSJ alumna/teammate/friend
"She was an outgoing, independent, and driven young woman. She had a beautiful smile and a dynamic personality." -Tina Blakley, head coach & senior woman administrator of cross country/track and field
"Gina and I met when she decided to run cross country after spending her prior running career as a sprinter. We instantly became great friends. Both being blonde and short we often joked that we were sisters (no one fell for it). We logged many miles, two a days, races, and meets together. Looking back at all the memories we have together, vacations, trips to the lake, or a night on the town, we truly became sisters. I am so thankful for all the memories I have with Gina and will miss her everyday." -Kassie Koch, MSJ alumna/friend/teammate