Before even knowing his "real" name, Emily Wohlfrom had her eye on Tony Knox her freshman year after meeting him through track and field.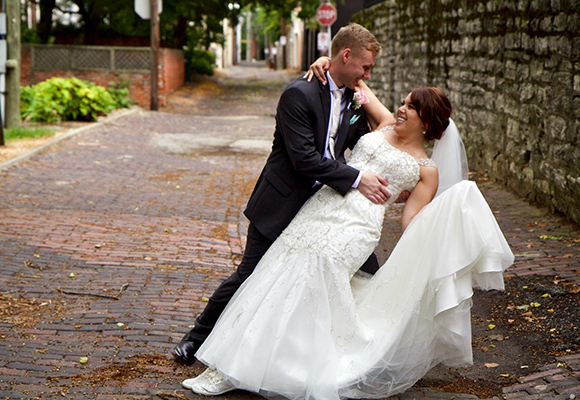 "I thought his name was Alex for a week, and he used my cross country nickname when talking to me," she smiles. While Emily was generally outspoken in college, approaching Tony took a bit of time.
"I was initially too shy to approach him (which is a bold statement coming from the girl who would wear snuggies to track and cross country meets)," she narrates. "So, I did what any mature adult would do and had my friends find out if he was interested. Turns out he was just as shy."
Alas, the athletic pair eventually warmed up to each other and spent a lot of time together at meets, and started dating the summer between their freshman and sophomore years—supporting each other through their work/life balance over the next few years.
Cordially Crossing Paths through Cross Country & Track
The two were lucky to be able to spend much time together through cross country, and were able to make it work when other priorities took hold.
Tony, a Business major quit the cross country and track team after his sophomore year to focus on his internships and studies, while Emily, an Early Childhood Education major, was able to run cross country up through her senior year. She quit track her junior and senior year due to scheduling with practicums and student teaching.
"Tony worked at the Harrington Center at the front desk so I was able to see him in between classes and after practices. This made work/life balance pretty achievable for us," she says.
For Emily, she says all of her favorite moments at the Mount include Tony. "I remember going to cross country meets where he would willingly sit in the "girls" van listening to Miley just so he could be with me. Tony is pretty reserved among big groups of people so a 'special' moment would be when he cracked a joke at cross country practice that made Coach Tina double over in laughter."
A Half-Marathon Proposal Leads to the Marathon of Life Together
Emily knew he was the one after her dad's observation that she couldn't stop smiling whenever she'd mention Tony's name. But the thing that truly confirmed it? "I would say it's when he willingly sat through a Disney Movie Marathon and didn't say anything about my off-key singing to every song." A true keeper.
After graduating from the Mount, Emily and Tony ran the Disney Princess Half Marathon in 2017, where he proposed to her. A perfect fit for Emily's love of Disney. They got married in July the following year. Together, they have an adorable son named James, two cats, and a big dog named Moose.​
"I think The Mount will always hold a special place in our lives since that's where we met," she delightfully reflects. "I think it will be cool to point out the Mount when we pass it on the way to [our son] James' great grandpa's house when he's old enough to recognize buildings. I will always be thankful for our time there."
__________________________________________________________________________________________________
Interested in being featured in an MSJ Love Story? Submit your details here!