MSJ senior running back Cornell Beachem Jr. was named as an American Football Coaches Association All-America first-team selection.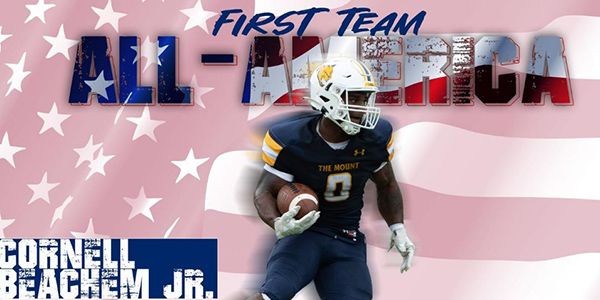 The 2022 football season at Mount St. Joseph University was one that will be remembered for a long time. The Lions 10-0 regular season, HCAC Championship and NCAA DIII Playoff appearance was littered with outstanding performances. In recognition for those performances the post-season honors have been rolling in for the team and its players.
Today, the most prestigious of those honors is announced, as the American Football Coaches Association (AFCA) announces that Lions do-it-all running back Cornell Beachem Jr. has been named a First Team All-America Selection. This honor makes Beachem Jr. a two-sport All-American, as he is already a 2x All-American on the wrestling mat.
"He was motivated from Week 1 through the playoffs," Hopperton tells WCPO. "He's obviously a very special athlete and a very special person."
To read more on Cornell Beachem's honor, visit WCPO: Mount St. Joseph University's Cornell Beachem Jr. named first team All-America