On October 29th before the Homecoming Game, Mount St. Joseph University assisted the Green Township VFW Post 10380 in presenting four MSJ students with a $500 scholarship.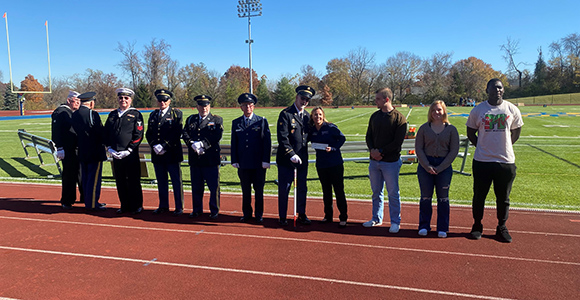 According to their website, the VFW (Veterans of Foreign Wars) is a nonprofit organization that serves veterans, military, and our communities. Thus, the VFW Scholarship is designed to honor military service, and invest in its future generation.
Mount St. Joseph University would like to thank the Green Township VFW Post 10380 for continuously showing up for our University and military affiliated students.
Scholarship Recipients for Veteran & Military-Affiliated Students:
Augustin Sharpshair: Gus served 4 years active duty and is currently a Navy Reservist at the Navy Operational Support Center in Cincinnati. His rank is Petty Officer 2nd Class. Gus is a senior majoring in Computer Science with a minor in Mathematics.
Alicia Sutton: Alicia has been serving in the Army for four years. She enlisted with the Ohio Army National Guard in 2018 as an 88M, transport operator. In 2021 Alicia went on to a commission as a Human Resources Officer in the Adjunct General Corps with the Army Reserves. Alicia is currently a student in the Mount's Doctor of Physical Therapy program.
Kelvin Nkansah: Kelvin has been serving in the U.S. Army for almost 2 years. He is currently a 12B combat engineer in the army. Kelvin is a freshman at the Mount and is pursuing his degree in Accounting.
Keano Hammerstrom: Keano joined the Army National Guard after his freshman year in college. He has furthered his military career by joining the Xavier University ROTC program. Keano is currently in his first semester of his senior year and is pursuing his degree in Criminology with a concentration in Justice Studies.
Get Involved With Us
Do you have passion for helping and advocating for veterans and the military-affiliated community? We want you to join us!
Check out HAVIC, Helping all Veterans in Communities. HAVIC is a social organization that serves to assist and educate the student body of Mount St. Joseph University in veteran and military affairs. It is open to all MSJ students, alumni, faculty and staff that would like to participate in the mission of HAVIC. You do not need to be military connected in order to join.
Contact HAVIC Staff Advisor, Amy Wolf at Amy.Wolf@msj.edu to get started!
Veterans Day Event on Nov. 11, 2022
In recognition of Veterans Day, the Mount's Veteran & Military Affiliated Student Services Committee is hosting a fun, yet impactful, event for our MSJ community to get involved in.
Join us next Friday, November 11th, to participate in an Army Combat Fitness Test, ACFT in the Centennial Field House.
The Fitness test will begin at noon with the 2-mile run starting at approximately 12:45pm. To enter the ACTF relay, you will need to arrive at the Centennial Field House at 11:30 a.m. for registration. There will be a $5.00 participation fee which will include 6 entries into a Split the Pot raffle!
The ACFT includes: 3RM deadlift with hex bar, standing throw power, hand release push-up, spring-drag-carry, plank, and a 2-mile run.
Not interested in participating in the ACTF? Come join us anyways in the Field House in order to cheer on the participants, or have some fun with the additional activities that will be set up. MSJ water bottles, granola bars, and Gatorade will be passed out to those who attend on a first-come-first serve basis.
Split the Pot Raffle
A split the pot raffle will begin next on Monday, November 7th and run through Friday afternoon, November 11th. 
Split the pot tickets will be sold in the Seton Lobby, Monday through Friday 8-9 a.m. and then again Monday through Thursday at 11:30 a.m.-1 p.m. Final chance tickets will be sold on Friday, Nov. 11th from 11:30 a.m. -1 p.m. on Schueler Field. Tickets will be $1.00 each or $5.00 for 6 tickets. The winner of the split the pot will be notified by Monday, November 14th. The other 50% of the raffle proceeds will go towards a donation to the Joseph House in Cincinnati, which provides treatment recovery for veterans.
The Mount thanks all of its service members for their commitment to serving the country, and for being leaders on our campus and in our communities!