Freshmen student Olena Holub '26 furthers her Information Technology (IT) skillset overseas with Mount St. Joseph University.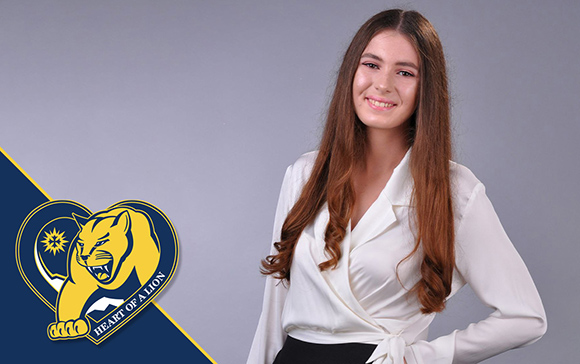 From the south of Ukraine, Olena grew up speaking multiple languages. From here, her multilingual abilities led her to participate in a language learning camp in Germany that incorporated STEM fields with linguistics.
It didn't take long for Olena to decide IT was the right pathway for her.
"Through that experience, I realized how powerful technologies are," says Olena. "With my understanding of languages, and my ability to speak multiple languages, I quickly learned that if I went into IT I'd be successful no matter where life takes me."
Eventually, she became involved with a partnership with Mount St. Joseph University through a language exchange program, and she had yet to anticipate the impact this partnership would have on the rest of her career journey.
Swimming toward Hopeful Horizons
Olena was eager to pursue her college education full-heartedly back home, but the war in Ukraine made this very challenging, impacting her college experience tremendously.
Inside Southern Ukraine lies the coastal city of Kherson, home to a major sea harbor town that extends across the Black Sea and the Dnipro River. For those who currently reside there, this major ship-building city chants with patriotism and awaits the return to normal life.
The Ukraine invasion had far-reaching impact across its region and beyond, threatening peace and security throughout Europe.
As a result, many college students were displaced, and unable to continue their education in their home country.
Four days after the invasion started, Olena's family could tell that things were looking dangerous, so they decided it was the best option to move. Olena, along with her parents and two younger siblings, traveled to stay with other family members in Europe. "It was a hard transition for me, but I am thankful that my family is safe," she says.
She somberly reflects on this time of hostility and uncertainty.
"It was a very stressful experience. I knew the war was happening and with how televised the war was. It was very upsetting and hard to focus on much else, including planning to pursue an education," she says.
Finding a Sense of Belonging at the Mount—Thousands of Miles Away Overseas
After the invasion and the challenges it presented thereafter, Olena had unexpectedly found new possibilities through her current partnership with Mount St. Joseph University.
Olena's connection to the University came about through her involvement with a language exchange program partnership with the Mount and her university at that time in Dnipro, Ukraine.
Through this partnership, she met the supportive Information Services & Support (ISS) staff who lead the Mount's technical support efforts. The ISS team works with several high-achieving Ukrainian students who are proficient in English on a variety of projects, and Olena is one of these students.
"I was involved with a language exchange program and met Brook, Jackie, and Alex," says Olena. "This program gave me the opportunity to learn more about American culture, and to teach others about Ukrainian culture. I also learned how welcoming and tight-knit the Mount community is. I knew the Mount would be a great place for me to study and learn."
Several members of the Mount community have developed connections with their student partners while working on these projects. In the midst of the crisis, the Mount was proactive in immediately leading an effort to establish a Ukrainian Student Relief Scholarship Fund to support one of their Ukrainian partners to come to the U.S. to study in the cITe program.
It's no surprise that before she even applied, Olena felt a sense of belonging with the MSJ staff thousands of miles away overseas.
Проживаючи кожен день із мужністю: Living Everyday with Courage
As far as what the cITe program entails, members of the ISS team also lead the Mount's cITe Scholars Program (Center for IT Engagement). This undergraduate four-year degree pathway blends a Social Computing major with a double-major of students' choosing, offering an enhanced understanding of what data language is, and how it can be used to meet the demands of today's world.
Thus, it was the perfect opportunity for Olena.
She was able to connect with the cITe faculty and staff who provided her with assistance and encouragement to meet the vision she had for herself prior to the Ukrainian crisis. They helped her apply to the Ukrainian Relief Scholarship to earn a degree in the field of Social Computing.
Due to her unique skillset and perseverance to advance her talents, Olena was selected and accepted into the program. She felt excited and relieved that all of her hard work in the field had paid off.
With the Heart of a Lion, she shortly relocated to the Mount's campus to study overseas.
"The University is allowing me to broaden my horizons," she says. "The cITe Scholars Program faculty and staff have helped me see how technology can be applied to different disciplines in new ways, and have supported me in my transition to college life and a new country."
After an enormous transition, Olena fondly reminisces on her home country's traditions after settling into a new country.
Woven with customs such as folk art and embroidery, modern Ukrainian culture applies ancient traditions to day-today contexts. She says vyshyvanka (an embroidered shirt) is a traditional piece of clothing in Ukraine that symbolizes spiritual wealth in general. Every color and detail means something specific, and many Ukrainians wear vyshyvanka daily or during special events.
"As for traditional food, Borscht, a traditional Ukrainian soup, reminds me of my home," she nostalgically reflects. "The traditional music of Ukraine is more about folklore, like kozaczki songs, which inspire me to live my day-to-day life with courage."
Creating Innovative, Positive Change
In regard to the program thus far, Olena says the cITe faculty are extremely welcoming, supportive, and understanding, and she is grateful for receiving such an opportunity.
"Through the cITe Scholars program, I am able to learn about linguistics, research, and technology design and development. I have also been able to join the cITe work-study program and have been working on real-world projects with my peers and cITe faculty and staff."
Over the next few years, Olena's goal is to deepen her level of understanding in different IT areas, such as databases, programming languages, artificial intelligence, and more. She is most excited about the real-world learning experiences she will receive and how to utilize these technologies to create positive and innovative change.
__________________________________________________________________________________________________
Interested in Combining Social Computing with a Major of your Choosing?
Our cITe Scholars Program may be a strong fit for you.
Students in cITe double major in their content area of interest combined with a major in Social Computing. This interdisciplinary curriculum works to connect students' interests to technology innovation. Students are also eligible to to apply to the cITe Scholarship up to $8,000 per year: the Choose Ohio First cITe Scholarship.
To learn about Olena's program, visit our cITe Scholars page for program highlights.