As she approaches graduation, Ciara's in-depth involvement granted her lasting life lessons as she made the most of every opportunity since her freshman year.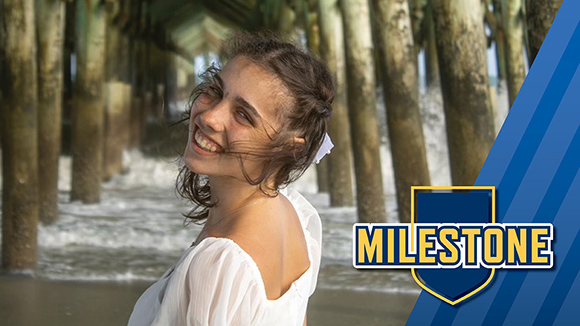 MSJ Commencement is a time for students to reflect on everything they have accomplished, and next steps toward integrating an MSJ education and life experiences into their next life chapter.
Senior Ciara Tucker's time at the Mount draws to a close next May, and she reflects fondly of the start of her MSJ experience. She began here as a first-generation student, wondering what college would entail for her. So when she arrived, she found the best way to do so was to try a little bit of, quite frankly, everything.
She is graduating a year early with a double-major in Communication & New Media Studies and Computer Science (the cITe program) and is involved as a Resident Assistant, Computer Science work study, lead campus ambassador, tutor, and member of theatre, RHC, and peak productions.
In essence, being the first person in Ciara's family to graduate college fueled her drive to make the most of her college experience. She understands how important receiving an education is for making her mark on the world, and she is forever grateful to her parents and Mount St. Joseph University for making her dreams of attending college a reality—especially after receiving a full-scholarship to the Mount.
She also credits Mount Notre Dame High School and her grade school, Sacred Heart of Jesus, for their help, encouragement, and dedication to her preparation for college and beyond.
"It is because of the encouragement of my counselors and professors and the generosity of this University that I am able to not only attend college, but to do so completely debt-free. I am beyond excited to walk across the graduation stage this May and make my family and those at the Mount who have helped me, proud."
A Complementary Double-Major Leads to Well-Rounded Skillset
Ciara is concluding her final months in the cITe program at Mount St. Joseph University where students pursue a double major in Computer Science combined with a second field of study.
"I specialize in Social Computing, the study and practice of how people interact with technology, so pairing this with communication has been very helpful in several ways," she says. "Although my double-major may appear to be an odd pairing to some, it has truly been a blessing."
As a double-major, Ciara is able to look at things from multiple perspectives and propose technology-based solutions to problems presented in communication courses.
Her Communication & New Media Studies work has provided her the additional benefit of strengthening her interpersonal skills and articulating herself better in Computer Science classes. "This is truly the perfect fit for me because both of my majors have challenged me to pursue my goals and given me the tools to do so effectively."
What Would You Ask Your Freshmen Self?
When asked what Ciara's "freshmen self" would think of her now, she believes her freshman self would be amazed at what she has accomplished throughout her time at Mount St. Joseph University. 
"I think my mindset has a lot to do with being first-generation, because I realize every day how blessed I am to be here and work to make the most of every opportunity that has been provided to me."
While Ciara's first year of college was a bit unorthodox being online all year in the midst of the pandemic, she was still surrounded by people to support her and ensure she was adapting well.  The Admission Team and former Theatre Arts Director, Richard Buchanan would consistently check in when they saw her and offer to help in any way they could.
"I also made the most of the library resources offered here and made frequent visits to the Wellness Center," she says.
Mentors Who Put Heart at the Center of Work
One of the most meaningful experiences Ciara has had at Mount St. Joseph University was her alumni relations co-op last summer.
"The entire institutional advancement team, especially Sydney, Morgan, and Mikayla, took me under their wings and helped prepare me for success.  As part of this team, I was given the opportunity to help plan meaningful events for our alumni and even present my work to President Williams. I truly loved getting to work on campus and being surrounded by mentors who wanted to help me grow professionally."
After her phenomenal involvement at the University, Ciara's time draws to a close as she approaches her MSJ milestone of graduation in May 2023. She says what she will miss most about the Mount, is the special community.
"I can scarcely walk down the hall here without being greeted by a familiar face, and I spend my days among amazing friends and mentors. Although I am thrilled to be entering the professional world, I will forever hold in my heart the love and comfort Mount St. Joseph University provided to me."
__________________________________________________________________________________________________
Communication & New Media Studies: Learn More
Are you interested in understanding people from diverse perspectives? Communication & New Media Studies may be for you.
Our major develops effective, confident and ethical communicators, honing their capacity for critical and creative thinking as well as their understanding of diverse perspectives. Visit our Communication & New Media Studies page to see our program highlights.