Mount St. Joseph University, for a 3rd consecutive year, is one of the best colleges in the nation to work for, according to the Great Colleges to Work For® program.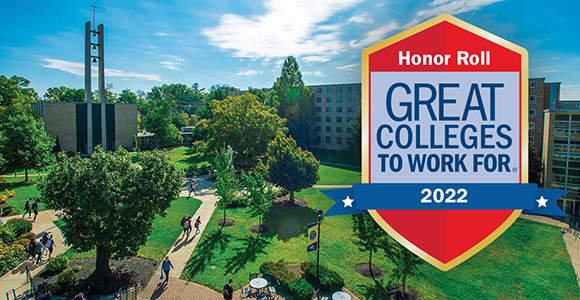 The results, released on September 16th in a special insert of The Chronicle of Higher Education, are based on a survey of 212 colleges and universities.  In all, 68 of those institutions achieved "Great College to Work For" recognition for specific best practices and policies.
Results are reported for small, medium, and large institutions, with the Mount included among the small universities with 500 to 2,999 students. 
Mount St. Joseph University won honors in eight categories this year:
Professional Development;
Mission & Pride;
Supervisor/Department Chair Effectiveness;
Confidence in Senior Leadership;
Faculty & Staff Well-being;
Shared Governance;
Faculty Experience;
Diversity, Inclusion & Belonging.
Mount St. Joseph University was also named to the Great Colleges Honor Roll, a status granted to only 42 colleges each year who are highlighted most across the recognition categories.
The survey results are based on a two-part assessment process: an institution questionnaire that captured employment data and workplace policies from each institution, and a survey administered to employees. The primary factor in deciding whether an institution received recognition was the employee feedback.
"When I was a student here, I knew the Mount was a special place," reflects Chief Human Resources Officer at the Mount, Teri Compton. "Now, as an employee, I have the privilege of seeing how the University rallies around both its students and employees by intentionally cultivating an environment for growth, servant leadership, and belonging. Maya Angelou said it best---'I've learned that people will forget what you said, people will forget what you did, but people will never forget how you made them feel.'"
Thank you to the Mount Community for your hard work and dedication!  We couldn't have achieved this honor without you. Stay safe, stay well, and remember: we are Mount St. Joseph University, and everything we do, we do with the Heart of a Lion.