Biochemistry majors take select chemistry and biology courses that apply the fundamentals of chemistry to living systems.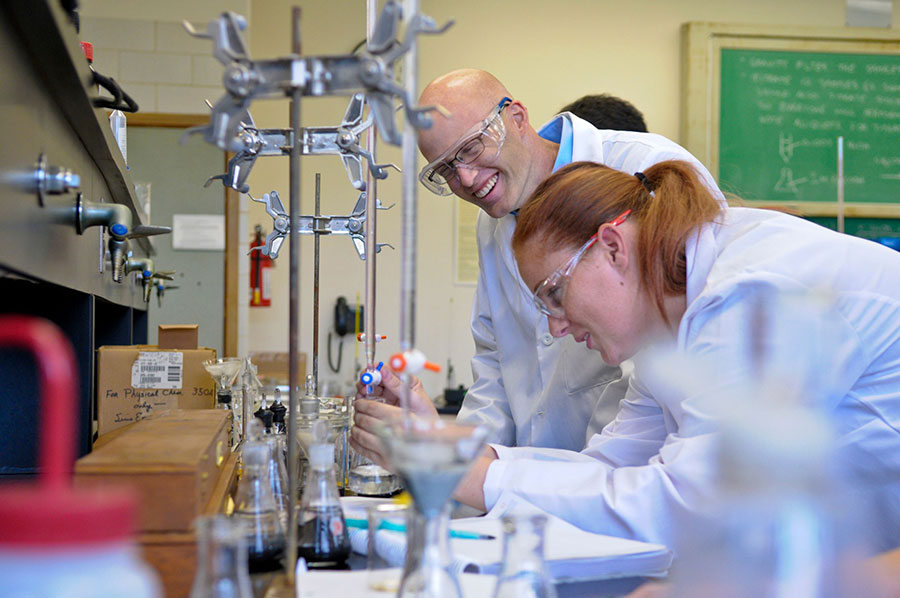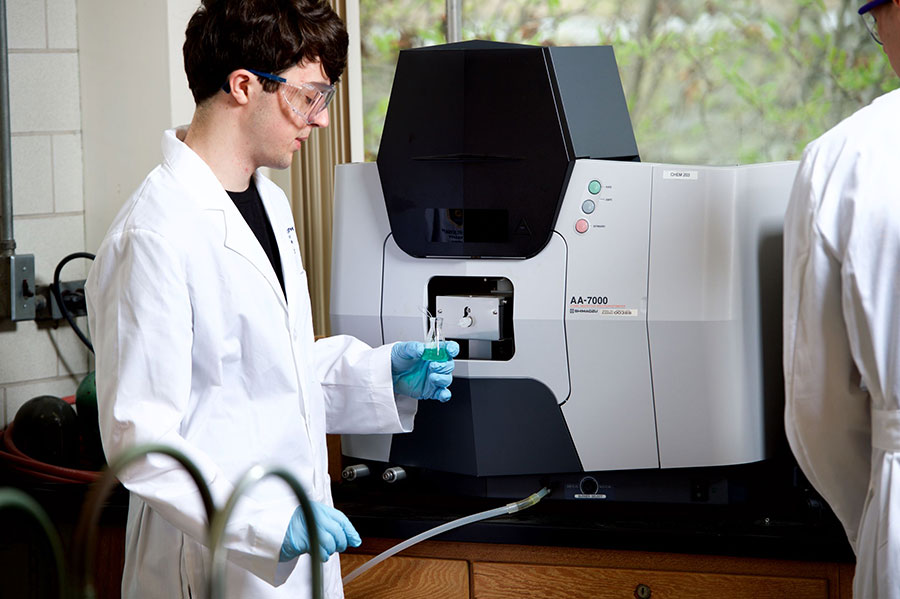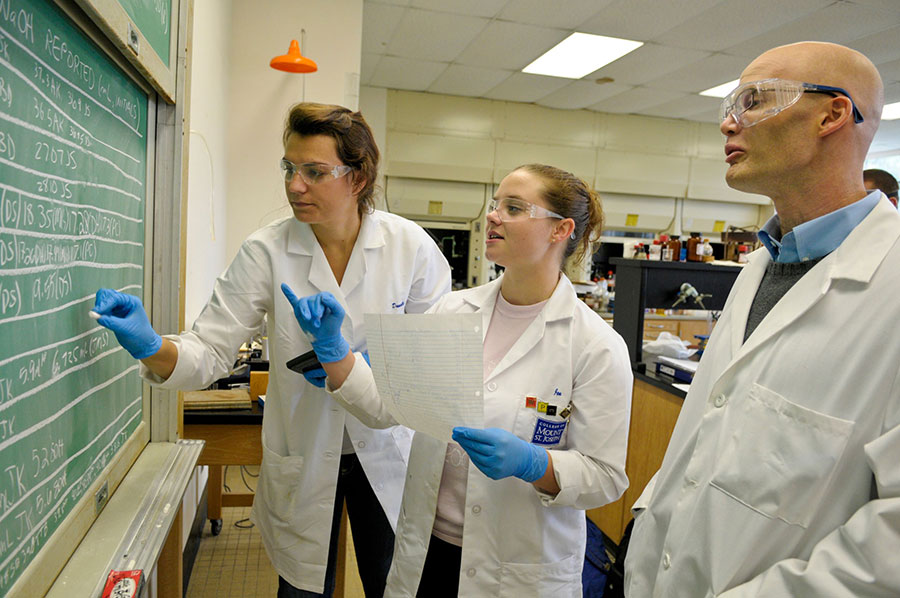 The Biochemistry major, offered in the Department of Chemistry and Biochemistry, provides students a solid grounding in chemistry and biology, and is supported by mathematics and physics courses.
Biochemistry is a great choice for students planning a career in the biochemical or pharmaceutical industries, or planning continued studies in medicine, dentistry or related fields.
Why Biochemistry at the Mount?
Featured Courses
The program consists of courses that include:
Analytical Chemistry
Biochemistry
Cell Biology
Genetics
Instrumental Analysis
Organic Chemistry
Physical Chemistry.
Employers/Co-op/Grad School and Cost/Aid/Scholarships
Students at Mount St. Joseph University have found great cooperative education opportunities with companies throughout Greater Cincinnati. Organizations that employ Mount students include:
All Creatures Animal Hospital
Aretek
Andy Frain Security
Arches of Oak Hills
Athletic Republic
Athletico
Avenues for Success
Bayley Life
Beacon Orthopedics
Bethesda North
BLOC Ministries
Brighton Center
Brookdale
Carestar
Cincinnati Children's Hospital and Medical Center
Cincinnati Police Department
Cincinnati Recreation Commission
Cincinnati Red's
Cincinnati Sports Club
Cincinnati Zoo
Conservative Financial
Continental Message Solutions
Contractors Choice
Cumulus Media
CVG
Deer Park High School
DePaul Cristo Rey High School
Drayer Physical Therapy
Elder High School
Encompass Health
Envision
FC Cincinnati
Florence Y'alls
Gateway Rehab Hospital
Hamilton County Jobs and Family Services
Hamilton County Juvenile Court
Hamilton County PreTrial Court
Home City Ice
Howell Rehab
Kolping Soccer Club
Kroger Pharmacy
Lawrenceburg High School
Legal Aid Society
Mercy Health
Messer Construction
Newport Aquarium
Office of Senator Rob Portman
Ohio National Financial
Q Laboratories
Red Wolf Sanctuary
Ripley Crossing
Santa Maria Community Services
Snap Fitness
Soccer City
St. Elizabeth Healthcare
Talbert House
The Cincinnati Insurance Companies
The Literacy Network
The Lodge Nursing
Training Personally
TriHealth
Triumph Energy
Triversity Construction
Western & Southern
Western Hills Music
Western Southern Tennis Tournament
Wood Hudson Research Laboratory
ESTIMATED COST OF ATTENDANCE
Scholarships Available:
Interested in careers in industry?
Career Potential:
Students graduating with a biochemistry degree have multiple career options. Some may choose to continue in graduate programs in either biochemistry or health care fields such as PA (physician's assistant), medicine, physical therapy, or pharmacy. Students may also enter the workforce as a researcher in a biochemistry facility.
Many of our students continue their career path with their undergraduate co-op/internship employer.
Interested in research or academic environments?
Many of our students continue their passion for science by entering a graduate program in chemistry, biochemistry, or related field. We offer individualized courses to assist in your preparation for graduate school.
Interested in health care?
Alumni Stories
Click here to read the full Biochemistry Alumna Q & A article with Valentine Wanga
Click here to read the full Biochemistry Alumna Q & A Article with Nicole Suttles
100%
of students employed or in graduate school within 1 year
Scholarships Available: Schmidlapp CITE
Most of our students choose co-op experiences to augment their training
Small school.  Hands-on, individualized training, one on one with PhD full-time faculty using a suite of instrumentation found in commercial lab settings.
"
"The chemistry and natural sciences department was such an important support system for me during my education. Being at a smaller school meant that my professors were not only teaching me in class, but they were also reviewing my resume, my application materials, and helping me with career guidance. The best part is that those things didn't end when I graduated, as Dr. Titus recently helped me with an application! I really enjoy how individualized the department has always made my education feel, starting from when they remembered me after my high school visit."
PharmD Candidate University of Michigan
Mount St. Joseph University - B.S. Biochemistry '20
Sara Busam
"
"The Mount's chemistry department brings a personalized approach to educating it's students. The faculty takes a vested interest in the success of each and every student. This paired with an environment to collaborate and question allowed me to discover a potential within myself that I use every single day."
Group Leader and Process Technology at Nitto Denko Avecia
Mount St. Joseph University - B.S. Biochemistry '14
Jake Koopman
"
"As a physician assistant, it is important to understand all aspects of medicine. A healthcare provider must not only know all about the anatomy but also the medications and their effect on patients. The mount's chemistry program helped me understand the composition of the drugs I am now able to prescribe. The Mount's chemistry and natural sciences department helped to provide a foundation of knowledge that I will continue to grow throughout my career."
Physician Assistant
Mount St. Joseph University - B.S. Biochemistry '14 PA '20
Brett Durbin
Featured News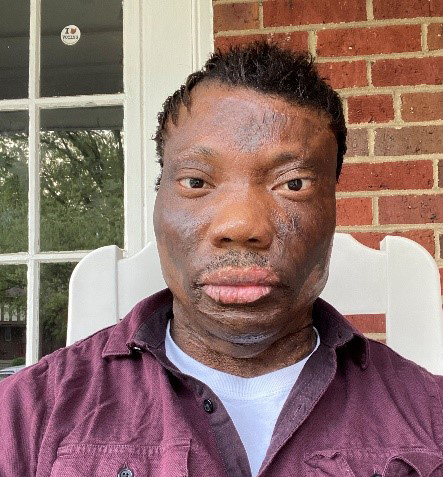 Transfer Student Q&A: Victor Onyegbulam, '22
September 1, 2021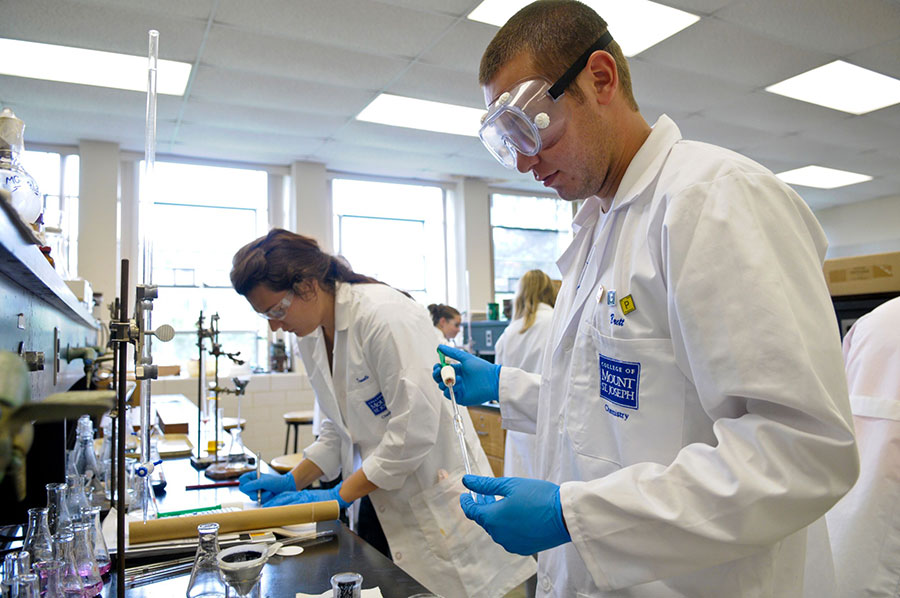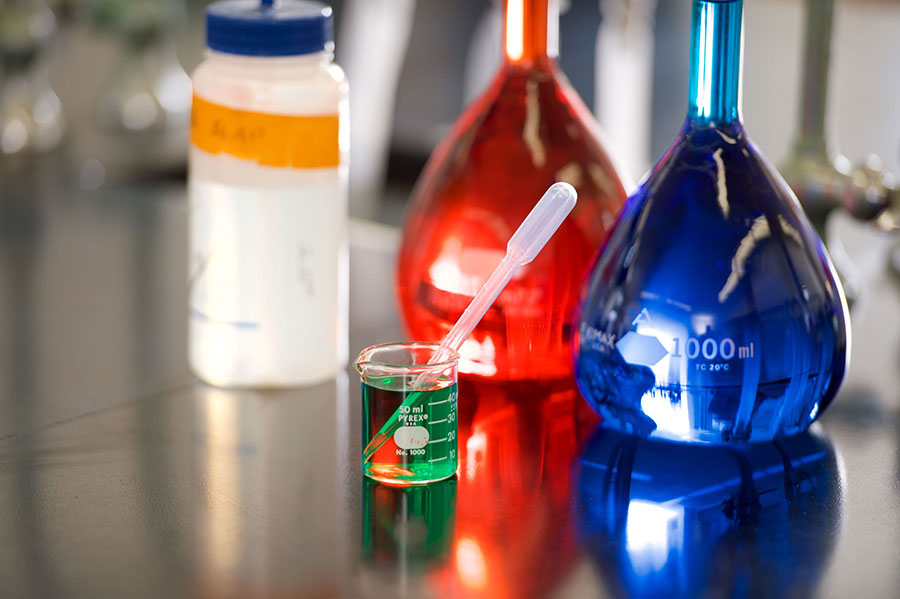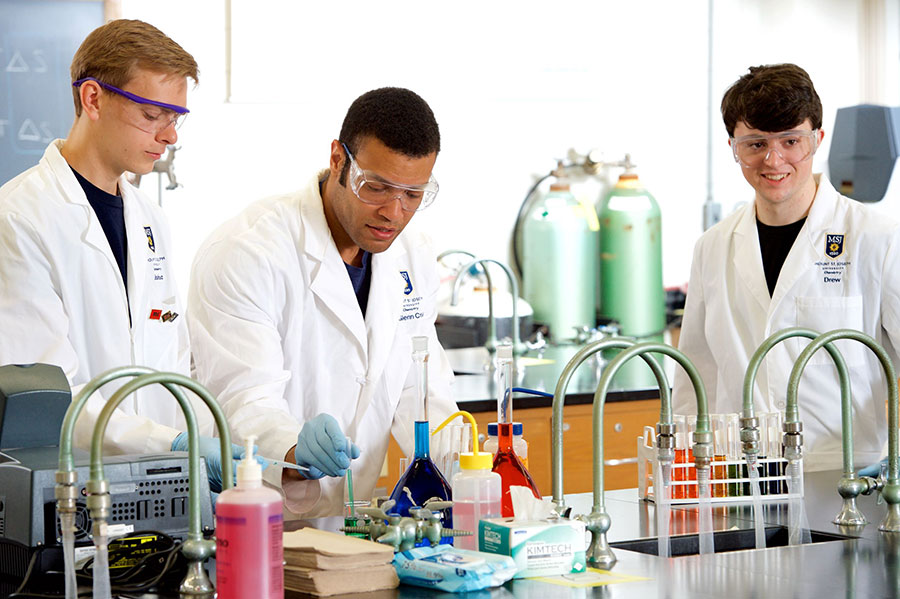 Hands-On Learning:
Under the guidance of faculty, biochemistry students at the Mount can participate in chemistry research as part of a research group. Many research students are co-authors on published chemistry research papers while others present their work at regional professional meetings.
Our extensive cooperative education opportunities provide real-life experiences in industrial settings and research labs in greater Cincinnati. These co-op positions have often led to full-time positions for our students.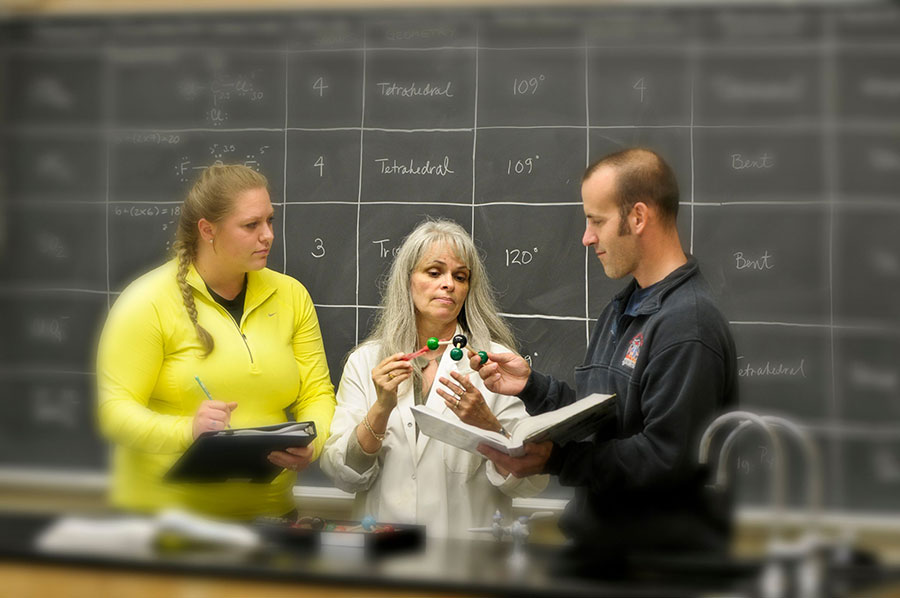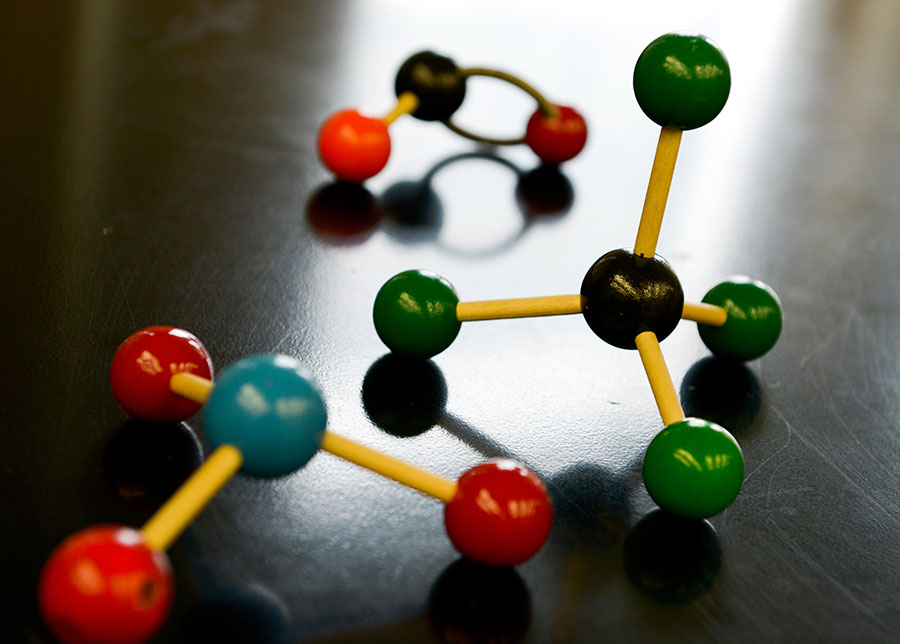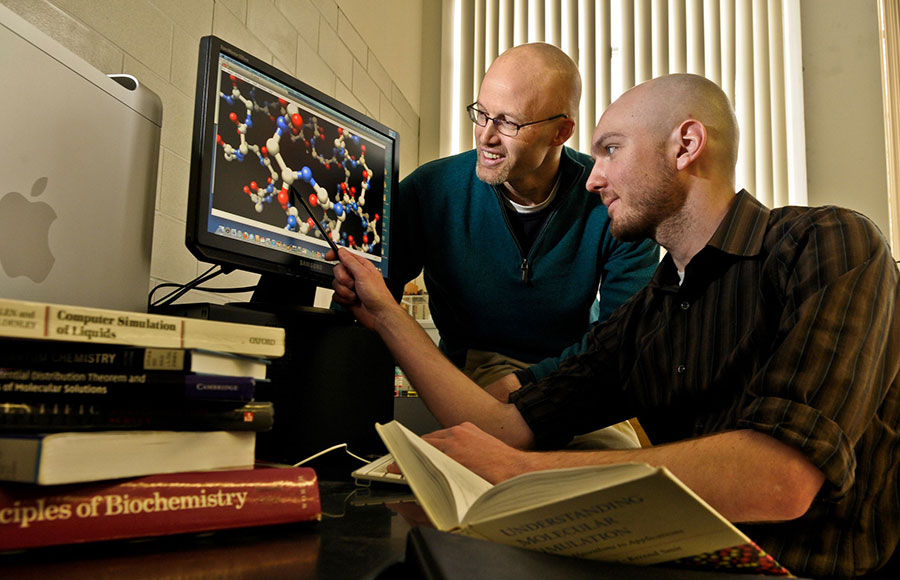 High School Outreach
Beyond the Campus
Mount St. Joseph University is involved in a variety of activities that improve and enhance the quality of life in the Cincinnati area and beyond. These activities include service, performing arts, visual arts, leisure classes for mature adults, athletic camps, and high school academic programs.
While the University prepares students as effective professionals, we've long recognized that there's more to life than career. It's also about being productive citizens and ethical leaders ready, willing and able to contribute to the greater good. 
Additional Resources
  2022-2023 Undergraduate Rate Sheet
  Fact Card