Dr. Davis shares important updates about the Fall 2020 semester, including efforts to keep students safe, course schedules and formats, extracurricular activities, and access to campus resources.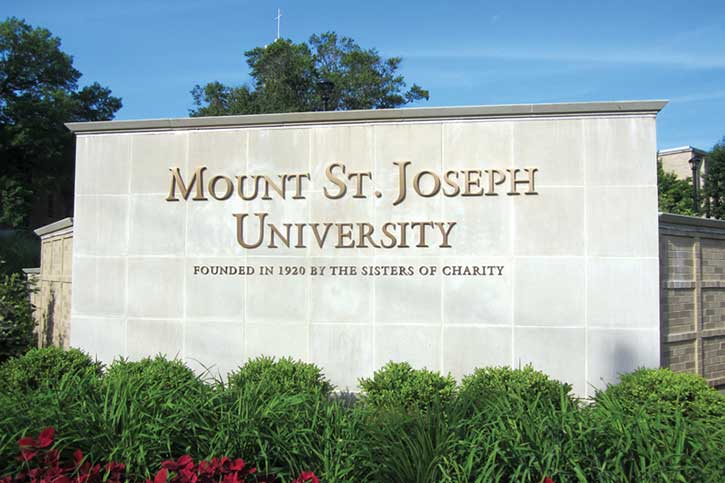 Mount St. Joseph University has been carefully monitoring the COVID-19 situation. We are taking the following precautions to keep our community safe. Click below for a complete listing of campus updates in response to the COVID-19 situation.

COVID-19 CAMPUS UPDATES

Current Students: MSJ is committed to assisting you through this challenging time. Information can be found on the Learning Resources section of myMount. Questions may be submitted through the ISS helpdesk ISS.HelpDesk@msj.edu or 513-244-.4357.
July 13, 2020
Dear Students,
Now that the fall 2020 course schedule has been released on myMount, you may have questions about what your Mount experience will really be like this fall. Course schedules vary greatly between students, and while most students will have a mix of course formats this fall, including some face-to-face, In*Sync, and online courses, some students may not have any face-to-face classes on campus. Depending on your schedule, you may wonder "Will I ever be on campus?" or "Will I ever see my peers?" While our first priority in planning is, and must continue to be, the health and safety of our community, I assure you that this fall ALL Mount students—regardless of your individual course schedule---will have opportunities for meaningful interactions and connections both inside and outside of the classroom.
With COVID-19 cases rising in the region and the expected "second wave" of virus outbreaks in October or November, we know we must offer instruction to you this fall in a way that is compelling and impactful, but that keeps you and our faculty healthy. We have had to balance the social and academic benefits of having you surrounded by your peers with the uncertainty that will come when students and faculty become exposed to the virus or become ill and are unable to be on campus. We surveyed our faculty and students to gain insights from last spring and have used that feedback to develop a new, high-quality, and innovative approach to virtual learning—In*Sync—which will work in conjunction with our traditional face-to-face and on-line courses.
In*Sync course delivery will benefit each student because it allows you to regularly engage with your professors and classmates through Zoom just as if you were in the classroom. It ensures that your academic progress will not be interrupted if a spike in the virus occurs, and provides you with flexibility based on each course syllabus.  Next week, we will release videos that demonstrate what you can expect from your In*Sync courses that I hope will provide some additional clarity for you. I am inspired by the creativity and dedication with which the faculty are planning for fall, as we work to nurture a vibrant, connected campus community for you.
We also know that extracurricular activities are an integral part of your Mount experience, and regardless of your course schedule, we want you to come to campus and safely interact with your peers. Mount staff and student leaders across campus have worked to identify and develop many opportunities for you to socialize with your peers IN-PERSON this fall. While following the Mount's COVID-19 Safety Guidelines, a variety of student activities and intramurals, that appeal to all different kinds of interests, will be offered to you on campus and around the region. Please regularly check your Mount email and Mount Roar! for announcements and registration information.
We are also working hard to address the fact that the shift in campus life this fall may pose particular challenges for some of you—for example, those who face difficult learning environments or those who have technology issues at home. We are seeking ways to minimize those challenges for you. Starting July 1st, we opened multiple Campus Study Rooms, which are available on a first-come basis, to facilitate studying on campus, provide you with access to Internet service on campus, and to allow you to use the computer labs and printers on campus in a safe manner. For more information about accessing Campus Study Rooms, please review the Mount's COVID-19 Safety Guidelines or call the Help Desk at 513-244-HELP (4357).
I hope that this update as well as the videos that we will share with you next week will help address questions or concerns you have about what to expect at the Mount this fall. We are excited to have designed even more creative and exceptional experiences for you to learn, grow, develop lasting friendships, and have a lot of fun at the Mount this coming year. I look forward to seeing you all on campus soon.
Sincerely,
Diana J. Davis, Ph.D.
Provost