Mount St. Joseph University COVID-19 Dashboard
Campus Masking Status
The Mount's masking requirement follows the CDC's community risk level for Hamilton County, Ohio, where the Mount is located.
High Risk (Red): Masks are required to be worn by all persons indoors in all locations on campus.
Medium Risk (Yellow): Masks are required to be worn by all persons in classrooms and labs during instruction and recommended indoors elsewhere.
Low Risk (Green): Masks are optional on campus.
At medium and low-risk levels, masks may still be required in some settings. Mount personnel will update the community about campus status each Friday.
Status for Week of Feb

. 4 to Feb. 10, 2023
Low Risk
Mount COVID-19 Guidelines: Requirements, Guidance, and Resources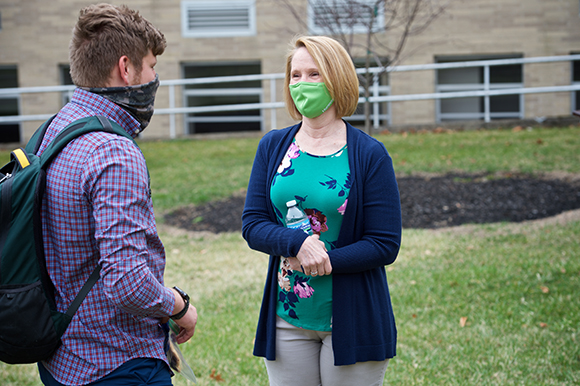 Mount St. Joseph University's COVID-19 Safety Guidelines (Guidelines) are a University policy that applies to all students, employees, and visitors as well as to all aspects of campus operations. The Guidelines are intended to reduce the spread of COVID-19 in the University community and beyond, and are predicated on individual responsibility to adhere to all requirements. The Guidelines have been developed considering recommendations from the U.S. Centers for Disease Control and Prevention (CDC) as well as other health agencies and will be updated as needed. 
Key Components of Guidelines
Do Not Come to Campus If You Are Sick.
Persons experiencing any signs or symptoms of illness—COVID-19 or any other illnesses—should not come to campus.  Students, faculty and staff who are experiencing any signs or symptoms of COVID-19 must immediately report their status to the University.  

To make a report, visit 

Mount COVID-19 Report.
Get Your Vaccine and Booster.
The Mount strongly encourages all eligible persons to get vaccinated against COVID-19 and to remain up-to-date on vaccinations.
Students and Employees Must Immediately Report, Signs, Symptoms, Exposure, Diagnosis.
Follow Isolation and Quarantine Protocols.
The Mount follows CDC recommendations for determining the timeline for students and employees to return to campus after COVID-19 signs, symptoms, diagnosis, or exposure. Consistent with CDC Isolation and Quarantine recommendations, University personnel in the Wellness Center (for students) and Office of Human Resources (for employees) assess each individual's specific situation for determining appropriate return to campus timelines.  Please note that the CDC does not use the date of positive test for isolation and quarantine timeframes.  The isolation and quarantine timeframes differ based on symptoms, vaccination status, and exposure.  
Follow Safety and Hygiene Protocols on Campus.
Wear a mask over your nose and mouth as required by the Campus Masking Status.

Exceptions to masking are limited to:

When actively eating or drinking.
When an individual is in a private office.
When actively exercising if you are up-to-date on your vaccinations.
When actively giving a presentation/lecture/instruction if you are up-to-date on your vaccinations.

When required, masking applies to everyone, regardless of vaccination status.
Employees and students should provide their own masks when on campus.
Disposable masks are available for visitors in the Seton Lobby and in other areas on campus.

Wash hands often.
Cover coughs and sneezes. 
Campus and Community Resources
The Mount provides resources to students and employees related to all aspects of COVID-19 through the COVID-19 Resource Page on myMount, which is maintained by the University's Wellness Center.  For more information or for specific questions to be answered about COVID-19 policies and protocols at the University, students should contact the Wellness Center at Wellness.Center@msj.edu and employees should contact the Office of Human Resources at Human.Resources@msj.edu.  If you do not have a question but choose to share your concern about our policies or approach to COVID-19 management, you are welcome to also send an email, but please know that not all messages will be responded to, but all messages will be read.
Higher Education Emergency Relief Fund (HEERF) I, II & III Reports